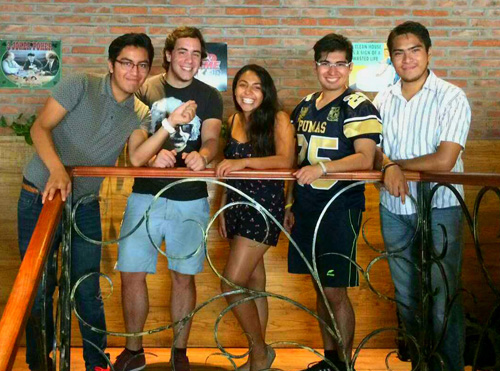 Mexican students from UNAM who visited China this year to study the Chinese language. [Photo/Provided to China Daily]
Chinese students will travel to Mexico under a bilateral scholarship program between Mexico and China in the coming semester.
Forty students will spend the 2015-2016 school year in the Latin American country, 36 studying Spanish, Mexican culture and other disciplines and four finishing their graduate studies at various universities around the country.
Mexican Ambassador to China Julian Ventura received a group of students in Beijing before their departure and wished them success.
Strengthening educational cooperation is a priority for the two governments within the strategic partnership established during the state visit by President Xi Jinping to Mexico in June 2013.
Mexico and China agreed a Bilateral Grant Program through which 40 Chinese students annually visit Mexico and 40 Mexicans come to China to study language, culture and undergraduate or graduate programs.
The ambassador stressed at the reception the importance of academics to achieve closer exchanges between Mexico and China, and urged scholars to maximize their stay in the country.
Of the Chinese students 18 will study at National Autonomous University of Mexico(UNAM), among which 10 will be hosted by the Faculty of Arts, while eight will be at the Center for Foreign Students.
Since the Center for Mexican Studies in China was founded in 2012, UNAM, one of the most prestigious universities, has admitted 41 students as part of its scholarship program.
UNAM also has an agreement with some Chinese universities in areas such as economic sciences, humanities, law, engineering and medicine.
Last year 12 Mexican students from UNAM studied in China, said Raul Parra, coordinator of Press and Media at the Center of Mexican Studies at the National Autonomous University of Mexico in China.
In addition to the UNAM, academic institutions receiving students are the College of Mexico, Autonomous University of Puebla, Guanajuato University, University of Colima, Autonomous University of Nuevo Leon and the Autonomous University of Hidalgo State.