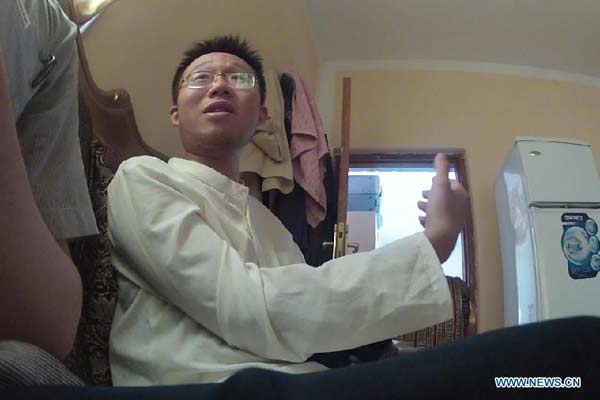 Photo taken on July 23, 2015 shows the detained Chinese student Liu Tuo talking at a local police station in the city of Samarra, northen Iraq. [Photo/Xinhua]
BAGHDAD - A Chinese college student detained in northern Iraq was freed by local police on Monday, according to the Chinese embassy in the country.
Liu Tuo, a student with China's Peking University and an archeology major, has been freed and is in good health. He has arrived in the Iraqi capital of Baghdad.
The embassy also said that the released student is going to return home soon.
Earlier this month, Liu was detained as reports said he was suspected of having links to the Islamic State militant group, but this later proved false.
As an archeology graduate student, Liu went to the war-ravaged country to visit historic sites that he is afraid may be destroyed in the conflict. In order to view cultural relics, he has been to many other countries with rich ancient civilizations such as Iran, Egypt and Pakistan.
Liu's courage and passion for archeology won the admiration of his friends, who wish for his safe return.