NORMAL, Ill - Mitsubishi Motors confirmed Friday that it plans to stop production at its only US factory and sell the plant in central Illinois that has more than 1,200 workers.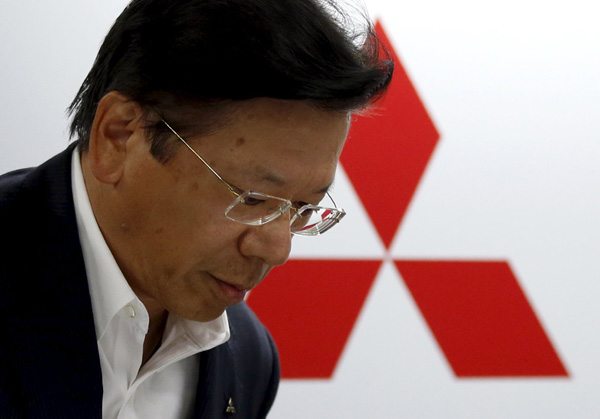 Mitsubishi Motors President and COO Tetsuro Aikawa attends a news conference at the company headquarters in Tokyo July 27, 2015.  [Photo/Agencies]
The Japanese automaker reviewed its global supply chain and decided it was necessary to end production at the plant and find a buyer, said Dan Irvin, the company's North American spokesman. The announcement came after Japanese media reported the automaker had decided to end production in the US to focus on Asian markets.
Irvin said Mitsubishi's board will soon make a formal decision on what will happen to the plant in Normal, Illinois, about 100 miles southwest of Chicago. Company officials hope to find a buyer that will maintain the factory's employment. The president of UAW Local 2488, Rod DeVary, said workers were told Friday that the plant will cease production on Nov. 30.
Annual production at the plant, which makes the Outlander SUV, has fallen to 64,000 vehicles from more than 200,000 in 2002. The company sold only 82,000 vehicles in the US last year - less than 1 percent of the total market.
Japan's leading business newspaper, the Nikkei, reported that Mitsubishi would be the first major Japanese automaker to end production in both the US and Europe. The company has built a plant in Thailand, bought one from Ford in the Philippines, and is building one in Indonesia.
Illinois state Sen. Bill Brady, whose district includes Normal, said he and other state officials were already working on a plan to find another manufacturer to buy the factory.
"We are going to do everything we can to make sure people know that Mitsubishi no longer needs the facility, but that this is a facility that has a very efficient, world-class workforce and a supplier network that's second to none," he said.
Brady also said he has talked to Mitsubishi officials have assured him that "Mitsubishi's effort to sell the plant "will not be about getting top dollar for the sale but about doing the right thing."