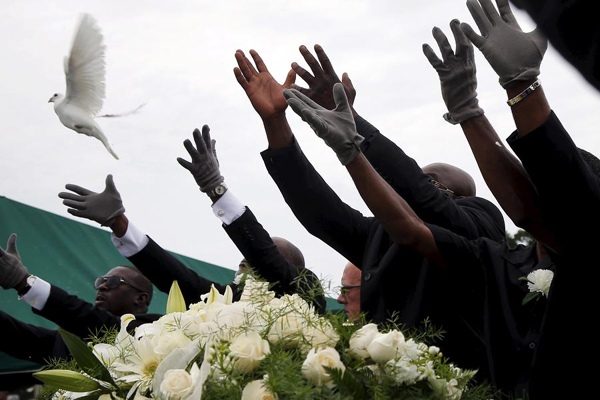 Pall bearers release white doves over the casket of mass shooting victim Ethel Lance as she is buried at the Emanuel African Methodist Episcopal Church cemetery in North Charleston, South Carolina in a June 25, 2015 file photo. [Photo/Agencies]
WASHINGTON - The white gunman who allegedly killed nine Charleston African-American churchgoers last month in South Carolina was indicted on 33 counts of federal charges, including hate crimes, the US Justice Department said on Wednesday.
Speaking at a press conference, US Attorney General Loretta Lynch announced the 33-count federal indictment against Dylann Roof, 21, which included hate crimes, firearms violation and obstructing the practice of religion.
If he is found guilty, Roof would face life imprisonment or the death penalty. However, Lynch said prosecutors had not made decision yet on whether they would seek the death penalty.
Roof had already been charged by state attorneys on nine counts of murder and three counts of attempted murder.
The racially motivated murder recently fueled debates of racism in the United States as the country was still recovering from widespread protests and rioting in the wake of a series of high- profile police shooting of unarmed African-American men.
Roof, who is white, appeared in photos waving Confederate flags and burning or desecrating US flags, and purportedly wrote of fomenting racial violence. Survivors told police that he used racial insults during the attack.
Although now Roof has been put under charges, but the incident has brought the long-term social disease in the United States -- racial discrimination, to become a focus again in and abroad the country.
Analysts pointed out that the true cause behind the case lies in the rampant racial discrimination on people of minorities, especially the African-rooted groups in the country.
In the United States, conflicts between minority with the white often developed into riots and sparked racial tensions.