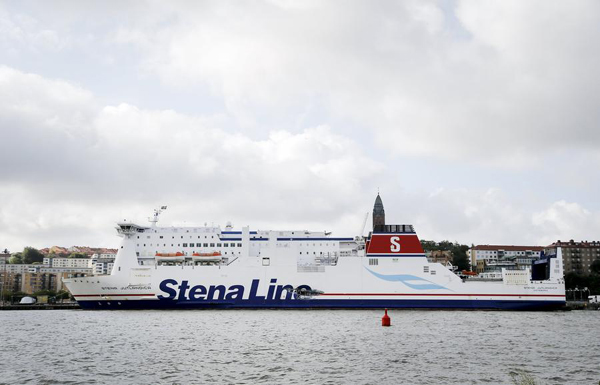 A hole is seen on the side of Stena Line passenger ferry Stena Jutlandica in the harbour of Gothenburg, Sweden, July 19, 2015. [Photo/Agencies]
STOCKHOLM - A passenger ferry collided with a gasoline tanker outside of Gothenburg and had to be rushed to shore in the early hours on Sunday.
A ferry traveling from Denmark to Gothenburg rammed a tanker carrying 12,000 tons of gasoline, causing both ships to take in water, daily newspaper Dagens Nyheter reported.
Rescue workers had detected no gasoline spills several hours after the tanker laid anchor to assess the damage.
The ferry, with some 600 passengers and crew on board, took in water through a damaged hull but made it into Gothenburg's port without having to be evacuated. No injuries were reported.
"It was unsettling when people woke up from the crash. Some children started crying and it took a good while before we heard that another ship had hit us in the rear," a passenger told daily newspaper Aftonbladet.
Ferry operator Stena Line said its line from Frederikshavn in Denmark to Gothenburg would be affected by the ensuing reparations.