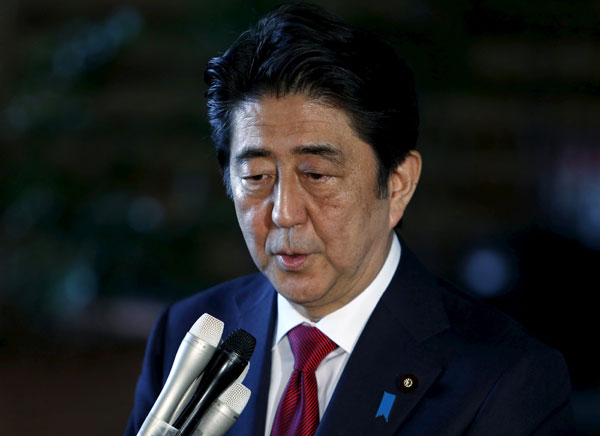 Japan's Prime Minister Shinzo Abe speaks to reporters after meeting with Yoshiro Mori (not in picture), Japan's former Prime Minister and president of the Tokyo 2020 Organizing Committee of Olympic and Paralympic games, at Abe's official residence in Tokyo July 17, 2015.[Photo/Agencies]
TOKYO - Japanese Prime Minister Shinzo Abe announced Friday that his government will revise the building plan of the new National Stadium for the 2020 Tokyo Olympic Games thoroughly as its skyrocketing costs has triggered strong public criticism, local media reported Friday.
"I have decided to bring the current (building) plan for the new National Stadium back to the drawing board and review the plan from scratch," Abe told reporters at a press conference.
The original plan by Iraqi-British architect Zaha Hadid's would cost an estimated 252 billion yen (2 billion US dollars), leaping from an initial estimate of 162.5 billion yen (1.31 billion US dollars). Both the public and officials have criticized the ballooning costs, leading to the government decision of revising the design.
Abe also said that because of the forthcoming revision, the new stadium will not be ready for the Rugby World Cup which will be held in the fall of 2019. However, "Japan can complete the stadium by the time the Olympic and Paralympics are held in Tokyo," said the prime minister.
According to government sources, Japan plans to slash the building costs for the stadium to around 180 billion yen (about 1.5 billion US dollars) and may change the main design element, which features two gigantic arches over the stadium in what looks like a bicycle helmet.
"The design itself has led to the large construction costs," Chief Cabinet Secretary Yoshihide Suga said, indicating the government sees design changes will be necessary to cut the ballooning costs.
The futuristic design was selected from 46 applicants at an international competition in November 2012.
In contravention of the International Olympic Committee's goals of lowering hosting-costs of the Games, the cost of Tokyo's new national stadium far exceeds the 455 million US dollars Beijing paid for its iconic "Bird's Nest" stadium built for the 2008 Olympics, and the 680 million US dollars spent by London for its new stadium for the 2012 London Olympics.