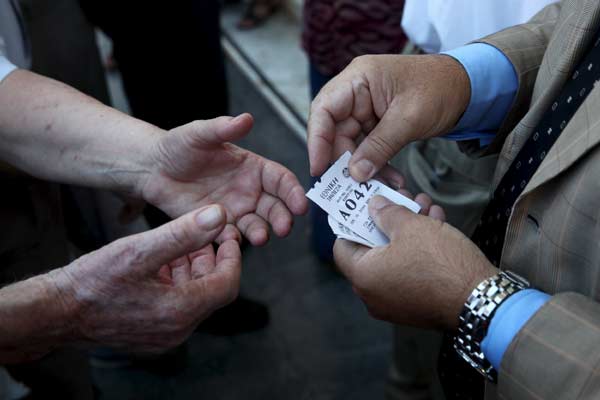 Pensioners are given priority tickets by a National Bank branch manager as they wait to receive part of their pensions in Athens, Greece July 16, 2015. [Photo/Agencies]
ATHENS - Europe moved to re-open funding to Greece's stricken economy on Thursday after the parliament in Athens approved a new bailout programme in a fractious vote that left the government without a majority.
The European Central Bank increased emergency funding for Greek lenders, although capital controls will have to remain in place to avoid a run on the banks when they reopen on Monday.
European Union finance ministers also approved 7 billion euros ($7.6 billion) in bridge loans to Greece, allowing it to make a bond payment to the ECB next Monday and clear its arrears with the International Monetary Fund.
The loans will be finalised on Friday provided Germany's parliament approves a Berlin government request to open talks on a three-year bailout programme - Greece's third in the past five years - worth up to 86 billion euros.
A majority of Germany's conservative lawmakers voted in favour of starting talks on a third Greek bailout in a test ballot on Thursday, the eve of a vote in the Bundestag lower house of parliament, sources in the conservative parliamentary faction said.
In the test ballot, 48 lawmakers in the conservative bloc opposed talks on further Greek aid while three abstained, the sources said.
The conservative bloc, composed of Chancellor Angela Merkel's Christian Democrats (CDU) and their Bavarian allies, the Christian Social Union (CSU), has more than 300 seats in parliament but it was not clear how many conservative lawmakers were at the test vote.
The Bundestag is expected to give Merkel's government a mandate to open negotiations, with the Social Democrats - her junior coalition partner - and some opposition parties expected to vote 'Yes'.