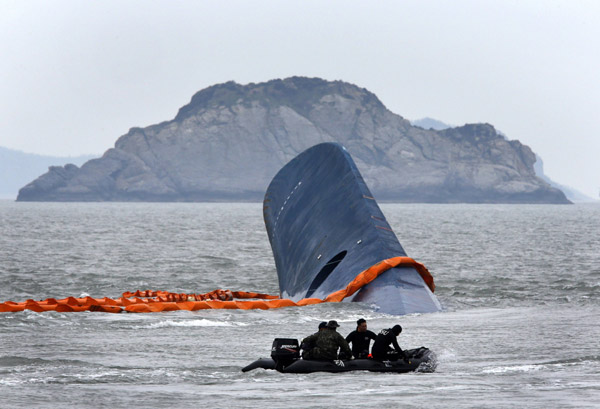 A vessel involved in salvage operations passes near the upturned South Korean Sewol ferry in the sea off Jindo, in this file picture taken April 17, 2014. [Photo/Agencies]
SEOUL, South Korea - South Korea on Wednesday selected a Chinese-led consortium as a preferred bidder to salvage a sunken ferry that killed more than 300 people in April last year in one of the country's deadliest disasters in decades.
South Korea's Ministry of Oceans and Fisheries said it will begin negotiating next week with the consortium led by China's state-run firm Shanghai Salvage Co., which offered to salvage the ferry at a cost of 85.1 billion won ($74.6 million).
If a deal with Shanghai cannot be reached, the second option involves a consortium led by state-run China Yantai Salvage. A consortium joined by Britain's Titan Maritime Ltd. and the Netherland's Svitzer Salvage BV was the South Korean government's third option.
Shanghai has experience in salvaging large ships and was recently involved in lifting a river cruise ship that sank in China's Yangtze River and killed more than 400 people last month, Yeon Yeong-jin, an official from the South Korean ministry, told a news briefing.
South Korea formally approved the plans to salvage the ferry Sewol in April, accepting the demands of the victims' families who staged fierce protests in the capital Seoul for months. The relatives hope that raising the ship will reveal more details about the cause of the sinking and help find the bodies of nine passengers still missing.
Experts say lifting the corroded, 6,800-ton Sewol from deep beneath a channel notorious for strong currents could be potentially dangerous and prove much harder than previous efforts around the world to salvage giant ships, which sometimes ended up costing much more than originally estimated.
The South Korean government had originally planned to drill dozens of holes into the side of the ferry, which would allow it to be tied to two huge naval cranes that would lift the vessel from the seafloor.
However, Shanghai questioned the logic of relying on cables attached to a weakening ship and instead offered to lift the ferry with a frame built with metal beams, according to a ministry official, who didn't want to be named, citing office rules. The official said the metal-beam structure would also be safer for divers.
Many large shipwrecks around the world were first cut into sections. The Costa Concordia cruise liner, which capsized after hitting rocks near an Italian island in early 2012, killing 32 people, was raised in one piece, but the 115,000-ton vessel wasn't completely submerged and was pulled upright before being hoisted.