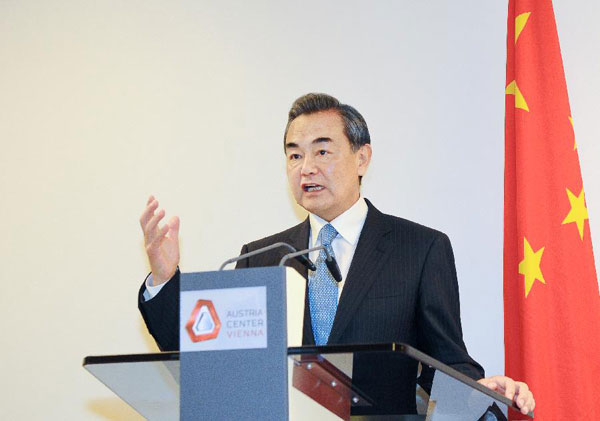 Chinese Foreign Minister Wang Yi is interviewed by media in Vienna, Austria, on July 14, 2015.[Photo/Xinhua]
VIENNA - Chinese Foreign Minister Wang Yi on Tuesday said he hopes the implementation of the comprehensive nuclear deal signed by Iran and world major states would open up new prospects for mutually beneficial cooperation between China and Iran.
"The relationship between China and Iran had been indeed affected by the Iranian nuclear issue, to be honest," Wang admitted.
Wang said that the traditional friendship and highly complementary economic ties between China and Iran are the basis of the cooperation between the two countries.
He said that many bilateral and multilateral sanctions imposed on Iran would be lifted with the implementation of the nuclear deal. Iran's relations with other countries, including China, would have a new development.
Wang said Iran has played a pivotal role in the historical Silk Road, and he hopes Iran would as soon as possible take part in the "Belt and Road" initiative proposed by China, bringing new impetus and new vitality to the development of the Iran's economy.
Iran and six major states clinched a historic comprehensive nuclear deal on Tuesday which put an end to the decades-old stand- off between Iran and the west.