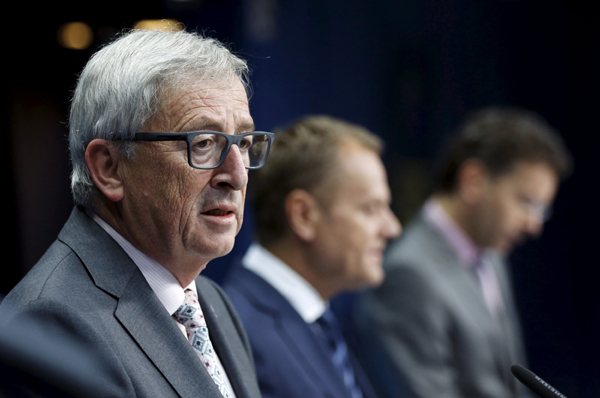 (L-R) European Commission President Jean-Claude Juncker, European Council President Donald Tusk and Dutch Finance Minister and Eurogroup President Jeroen Dijsselbloem address a joint news conference after an euro zone leaders summit in Brussels, Belgium, July 13, 2015. [Photo/Agencies]
BRUSSELS - Euro zone leaders clinched a deal with Greece on Monday to negotiate a third bailout to keep the near-bankrupt country in the euro zone after a whole night of haggling at an emergency summit.
"Euro summit has unanimously reached agreement. All ready to go for ESM programme for Greece with serious reforms and financial support," European Council President Donald Tusk announced on Twitter, referring to the European Stability Mechanism bailout fund.
However the tough conditions imposed by international lenders led by Germany could bring down Prime Minister Alexis Tsipras' leftist government and cause an outcry in Greece. Even before the final terms were known, his labour minister went on state television to denounce the terms.
"We were able to keep the unity on keeping Greece inside the euro zone," Slovenian Prime Minister Miro Cerar said on his Twitter account.
EU officials said Tsipras finally accepted a compromise on German-led demands for the sequestration of Greek state assets to be sold off to pay down debt. The terms of the agreement were not immediately known.
The Greek leader also dropped resistance to a full role for the International Monetary Fund in a proposed 86 billion euro ($95.78 billion) bailout, which German Chancellor Angela Merkel has declared essential to win parliamentary backing in Berlin.
However, in a sign of how hard it may be for Tsipras to convince his own Syriza party to accept the deal, Labour Minister Panos Skourletis said the terms were unviable and would lead to new elections this year.