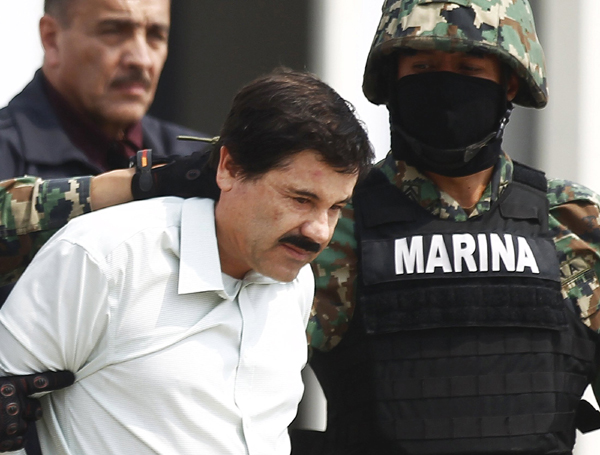 Joaquin "Shorty" Guzman (C) is escorted by soldiers during a presentation at the Navy's airstrip in Mexico City in this February 22, 2014 file photo. [Photo/Agencies]
MEXICO CITY - Drug cartel kingpin Joaquin "El Chapo" Guzman escaped from a Mexican prison, local authorities confirmed early Sunday.
Guzman, head of the Sinaloa drug cartel, disappeared from the maximum-security Altiplano prison outside of Mexico City Saturday night, according to the National Security Commission.
The drug lord was last seen in the security camera at 20: 52 local time Saturday when he was walking into the shower area of the prison. He wasn't seen for a while, since that area is out of the range of security camera. But when the wardens checked the area and his cell, both places were empty.
A search operation was immediately launched in the area around the prison. Highways connecting the capital to other states have been closed and flights at Toluca airport near the prison have also been suspended, according to the commission.
It was Guzman's second prison break. His first was in 2001 and he was recaptured in 2014.