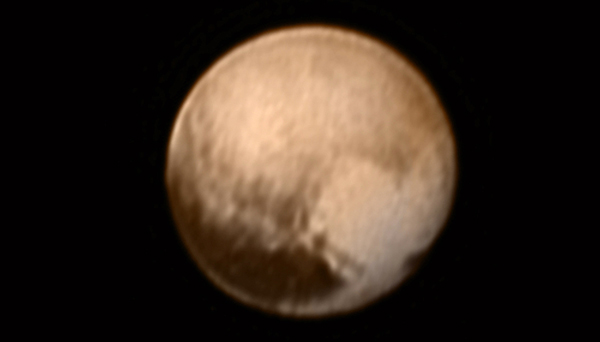 Pluto is pictured in this July 7, 2015 handout image from New Horizons' Long Range Reconnaissance Imager (LORRI). The image has been combined with lower-resolution color information from the Ralph instrument. This image is the most detailed yet returned by the Long Range Reconnaissance Imager (LORRI) aboard New Horizons. [Photo/Agencies]
LOS ANGELES - Pluto shows a "heart" in a most detailed photo yet returned by NASA's approaching New Horizons probe, which has now begun its final run for its historic flyby of Pluto.
In the early morning hours on Wednesday, mission scientists received the clearest image of the reddish-brownish dwarf planet by the Long Range Reconnaissance Imager (LORRI) aboard New Horizons, NASA said in a statement.
The image, which New Horizons took on Tuesday when it was less than 5 million miles (8 million kilometers) from Pluto, shows a large, heart-shaped feature on the dwarf planet's surface that measures about 1,200 miles (2,000 kilometers) wide.
To its left lies an 1,860-mile-long (3,000-kilometer-long) dark patch along Pluto's equator that mission scientists are calling "the whale". Above those features is a polar region that is intermediate in brightness.
This view is centered roughly on the area that will be seen close-up during New Horizons' July 14 closest approach. This side of Pluto is dominated by three broad regions of varying brightness.
"The next time we see this part of Pluto at closest approach, a portion of this region will be imaged at about 500 times better resolution than we see today," said Jeff Moore, Geology, Geophysics and Imaging Team Leader of NASA's Ames Research Center. "It will be incredible!"
Pluto's closest approach is scheduled for next Tuesday, when New Horizons will pass within 6,200 miles (10,000 km) of the dwarf planet's surface, traveling at a speed of 27,000 miles (43,000 km) per hour.
After a voyage of nine years, New Horizons is almost 3 billion miles (4.8 billion km) away, where radio signals, even traveling at light speed, need 4.5 hours to reach Earth. Round trip communication between the spacecraft and its operators requires about nine hours.
The piano-sized probe will perform the first close range study of the distant, icy world and its five attendant moons before continuing its journey deeper into the Kuiper Belt to examine one or two of the ancient, icy small worlds in that vast region, which is at least 1 billion miles (1.6 billion km) beyond Pluto.