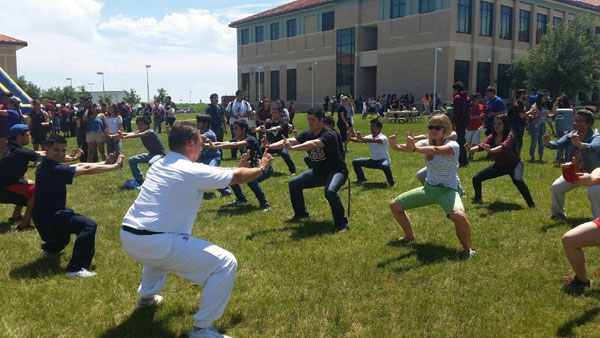 Project Pengyou hosted a Martial Arts activity practicing Wushu and Taichi at the Pre-Exam Jam at Texas A&M International University this April. Provided to CHINA DAILY
When Leslie Martinez came back to Texas A&M International University in Laredo from a one-year intensive Chinese-language program in Shanghai, she felt that she wouldn't be able to put to use what she had learned.
"Where I live, we don't really have a big Asian population," she explained. "And in my university, we have like two exchange students from China."
Fascinated by China herself, Martinez had a hard time finding people who shared her love for the country across the Pacific.
Then she found Pengyou - which means "friend" in Mandarin - a network of nearly 5,000 people, mostly Americans, who have either studied or are interested in studying in China.
The most unique thing about Project Pengyou is how it encourages people to share their stories, Martinez said.
"It's not only about networking, and it's not all like … business. Project Pengyou connects the experiences that we had with our feelings and friendships really well."
Project Pengyou serves as the alumni network for US President Barack Obama's 100,000 Strong Initiative to increase the number and diversity of American students studying in China. It is an independent nonprofit program of the US-registered public charity Golden Bridges Foundation.
According to its website, Project Pengyou is now connecting 4,713 people who have China experience. Through those members, Project Pengyou crowd-sources China-related jobs, events and resources and serves as a platform on China-related issues.
Martinez said that the events held by Project Pengyou make her feel that "at the end of the day, our generation is the one that is going to be connecting US and China".
Project Pengyou is headquartered in Beijing. But the majority of Project Pengyou events take place in the US, including the annual Pengyou Day celebrating US-China study and friendship, and leadership summits at Harvard University.
Tyler Bleuel, an inaugural Project Pengyou Leadership Fellow who just graduated from high school and will be attending Yale University this fall, said that what Project Pengyou does unlike any other group is focus on people. "It really cares deeply about every person they engage with," he said.
The number of American students studying abroad in China has grown from around 4,000 in 2000 to about 16,000 in 2010. China has now become the fifth most popular destination for American students overseas, with the other four of the top five in Western Europe.
Madelyn Ross, associate director of Johns Hopkins University SAIS China, was one of the first American students to study in China in the 1980s, following the normalization of Sino-US relations. She taught and studied at Fudan University in Shanghai.
"I think the essence of people-to-people exchange in that day was the stories that we shared with people and that they told us," Ross said.
Bleuel said the experience in China made him feel like the language barrier melted away and he felt connected to his Chinese friends.
Martinez talked about her best friend in China, who she still regularly Skypes a year after having returned to the US.
"At first I was his lao wai (foreigner) friend. And then I was just his 'friend,' " she said.
Liu Jingyang in Washington contributed to this story.