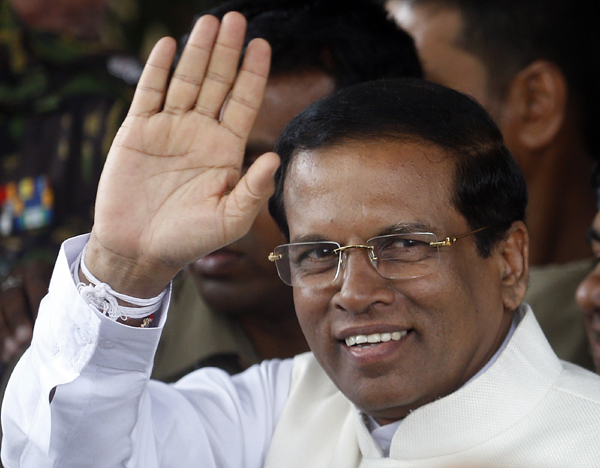 Sri Lanka's newly elected president Mithripala Sirisena waves at media as he leaves the election commission in Colombo January 9, 2015. [Photo/Agencies]
COLOMBO - Sri Lanka President Maithripala Sirisena will visit India in mid February since being elected early last month, local media reported Tuesday.
Sri Lankan President Maithripala Sirisena will visit India on Feb 16. This will be Sirisena's first overseas visit after assuming office early in January when his victory ousted former President Mahinda Rajapaksa after a decade in power.
Indian Prime Minister Narendra Modi invited Sirisena during his congratulatory call after the new president was sworn in, according to government spokesman and Health Minister Dr. Rajitha Senarathne.
"We will continue to engage with all countries and organizations to develop the country," he told Xinhua.
Foreign Minister Mangala Samaraweera paid a visit to meet his Indian counterpart Sushma Swaraj in January and both sides expressed the desire to boost relations.
India is also Sri Lanka's largest trade partner with $5 billion in 2014.
Modi is also likely to pay a reciprocal visit to Sri Lanka in March, international media nreported.
Modi's visit will be the first bilateral visit by an Indian prime minister to the island nation in more than 25 years. During the visit, Modi is likely to travel to the country's former war zone in the northern part of the country.