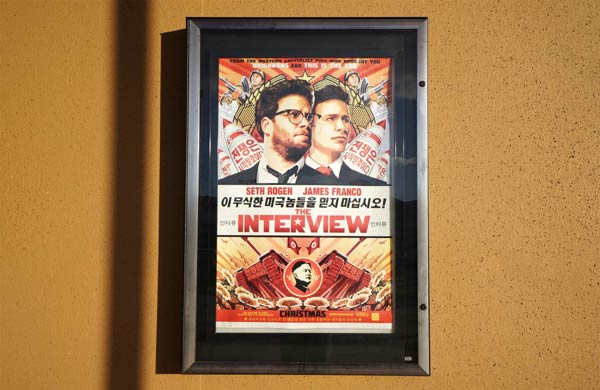 The poster for the film "The Interview" is seen outside the Alamo Drafthouse theater in Littleton, Colorado December 23, 2014. [Photo/Agencies]
WASHINGTON -- The US National Security Agency (NSA) secretly broke into the computer systems of the Democratic People's Republic of Korea (DPRK) in 2010, the New York Times reported Monday, an apparent effort by the US side to convince skeptics it has evidence that Pyongyang was behind last year's cyberattack on Sony Pictures Entertainment.
Citing former US and foreign officials, computer experts briefed on the operations and a newly disclosed NSA document, the newspaper said the US spy agency penetrated directly into the DPRK networks with the help of South Korea and other American allies after first hacking the Chinese networks that connect North Korea to the outside world.
The NSA began placing malware in the DPRK networks in 2010, first focusing on the DPRK's nuclear program and its leadership, but the focus shifted after a cyberattack in 2013 on South Korean banks and media companies, the report said.
As for the Sony attack, US investigators concluded that the hackers spent more than two months, from mid-September to mid- November, mapping Sony's computer systems before carrying out the attack that began on Nov. 24.
The evidence gathered by the US malware proved critical in persuading President Barack Obama to accuse the DPRK of ordering the Sony attack and to promise retaliation, which has begun in the form of new economic sanctions, it said.