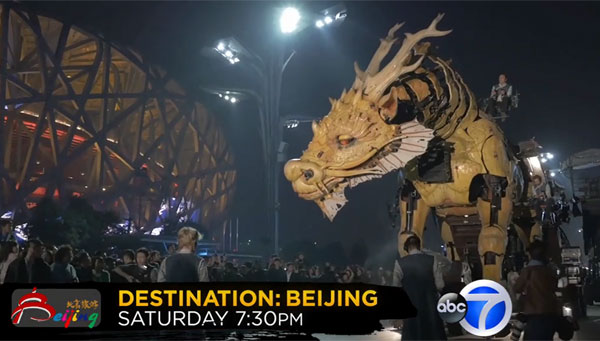 The first episode of a promotional series on Beijing--"Visit Beijing"--aired on WABC Channel 7 before Christmas, drawing in US audiences from about 230,000 households and reaching the target 18-54 demographic. PROVIDED TO CHINA DAILY
On the heels of a successful broadcast, the Beijing tourism bureau is looking to re-air a Beijing-oriented travel documentary in the New York tri-state area to encourage American travelers to visit China's capital city.
Visit Beijing aired on WABC, Channel 7, right before the Christmas holidays to audiences from about 230,000 households based on preliminary figures, according to Li Li, exective vice-president of the Sino-American Friendship Association, who worked with the Beijing Municipal Commission of Tourism Development, the city's official tourism bureau.
The program reached the target 18-54 demographic, a desirable demographic group for television advertisers.
"Everyone has been telling us that they got a fresh and better understanding of Beijing," Li told China Daily, "especially since this is the first time they're seeing Americans and Frenchmen telling their stories about living in Beijing and their opinions about the new city."
The first episode of the series introduced Beijing, and a second episode — aired over Lunar New Year, which falls on the third week of February this year — will focus on Beijing's imperial history.
The program is also available to stream on ABC7's website, and Li said that the viewership numbers are not reflective of online and social media audiences. The program will remain available online for a year.
Simone Bassous, executive director of the New York chapter of the Pacific Asia Travel Association who was featured in the series' first episode, told China Daily that the program will make US audiences curious about a city they may have heard of but don't know a lot about.
Beijing has always been a city that tourist associations and travel groups promoted, Bassous said, the recent changes to US-China travel visas will bring an even more dramatic addition of visitors. "The city, the food, the art, the culture" are major draws, she said.
Margaret Lam, founder of the New Jersey Chinese Festival, said that viewing the broadcast would "no doubt" make US audiences curious about Beijing.
"As someone who immigrated here from Hong Kong and has lived here for 48 years — so I'm a total American at this point — this program makes me want to go back and visit Beijing immediately," she said.
Lam visited Beijing for the first time in 2013 and said she found people from Beijing to be warm and friendly. "Americans will definitely be impressed, and I was supremely impressed myself," she added.
According to China's National Tourism Administration, a little more than 2 million people from the US visited in 2013. Travel and tourism experts predict that recent extensions to travel visas between the US and China — extending validity from one year to 10 years — will add more robust travel exchange between the two countries.
"People will be able to see and learn all about China's history through the capital," said Peter Lam, chairman of the Fuzhou Association of America. "Our country has such a long history and people can learn about things that they don't have the ability to experience without visiting the city themselves."
amyhe@chinadailyusa.com