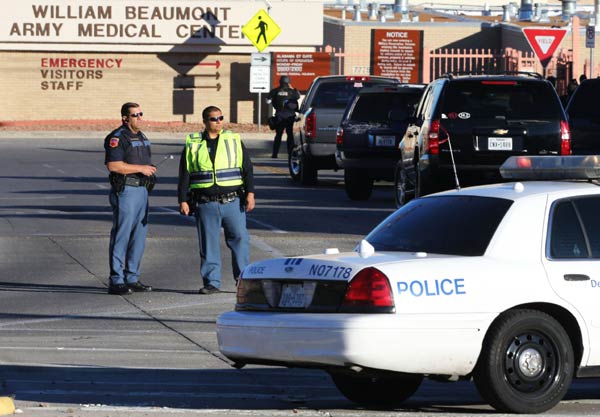 El Paso police block off an entrance to the Beaumont Army Medical Center as other officers search for a gunman during a shooting incident in El Paso, Texas January 6, 2015. [Photo/Agencies]
AUSTIN, Texas - A gunman fatally shot one person and then killed himself in an incident on Tuesday at a US Army facility in El Paso, Texas, a senior US Army official said.
The names of those who died were not released. The shootings took place at a veterans' clinic at the William Beaumont Army Medical Center in the western Texas city.
"The alleged shooter is dead and we have one casualty. That casualty is deceased," Major General Stephen Twitty, the commander of Fort Bliss, told a news conference.
The facility, which is part of Fort Bliss, had been on lockdown for several hours.
Local news reports said one of those shot in the attack was a doctor at the VA facility, citing a preliminary investigation provided by officials, including US Representative Beto O'Rourke's office.
"Our thoughts and prayers are with the men and women at the El Paso VA clinic," O'Rourke said on his Facebook page.
Video from the scene showed numerous police cars and emergency vehicles, while at least one helicopter flew overhead.