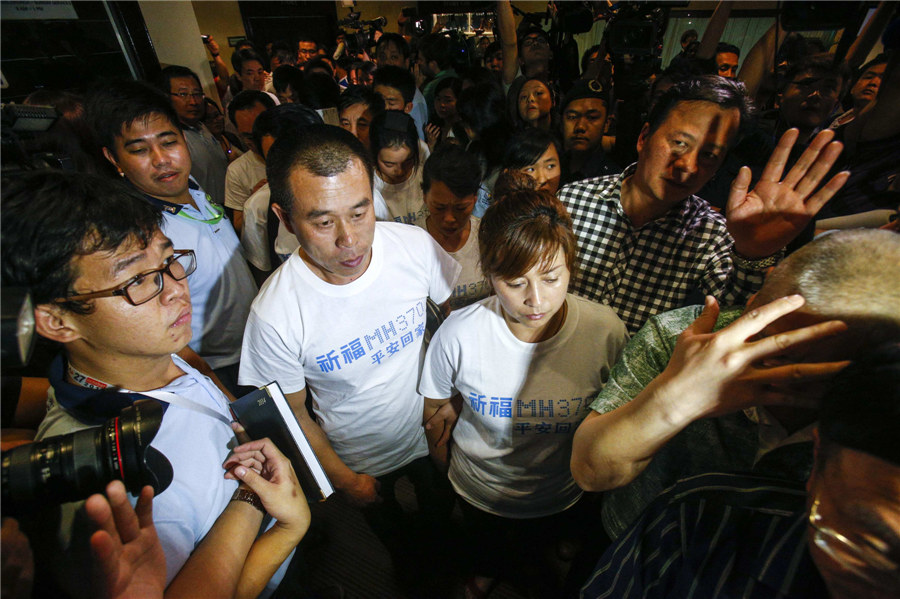 Relatives of Chinese passengers onboard the missing Malaysia Airlines Flight MH370 leave after a meeting at the Holiday Villa in Subang Jaya, March 30, 2014. Ten ships and as many aircraft will search a swathe of the Indian Ocean west of Perth on Sunday, trying again to find some trace of missing Malaysia Airlines Flight MH370 after more than three weeks of fruitless and frustrating hunting. [Photo/Agencies]
KUALA LUMPUR -- A new group of relatives of Chinese passengers on missing Malaysia Airlines Flight MH370 arrived here Sunday from Beijing, demanding more definite answers from the Malaysian side on the disappearance of the jet.
Jiang Hui, representing the relatives, said at a press conference here that the families have three requirements.
First, they hope that the Malaysian side could release all the data in a timely way, he said.
Second, they ask the Malaysia Airlines and the Malaysian government to apologize for the confusing information released in the first week after Flight MH370 went missing, and for the delay in the search and rescue operations, he said.
Third, they demand an apology from the Malaysia Airlines and the Malaysian government for hastily drawing a conclusion that the plane had "ended" in the Indian Ocean, with little proof at hand, said Jiang.
He said the families also call for a meeting with aircraft manufacturers and service providers such as Boeing and Rolls-Royce.
Jiang said they have met members from the Chinese embassy in Malaysia and expressed their expectation to have separate meetings with the search and rescue team, the airlines and the Malaysian government.
He said they hope they could get more definite answers here other than what they received from a high-level Malaysian team in Beijing, which was "ambiguous and irresponsible."
"We want the evidence, we want the truth, we want our families," said Jiang, stressing that they hope the Malaysian side could communicate with them with more sincerity.
"We will stay until the final end," he said, adding that they would express their requirements in an appropriate and legal way.
On Sunday, the Malaysia Airlines said in a media statement that it will send family members to Perth of Australia, where the current international search teams are based, once it has been authoritatively confirmed that the physical wreckage of MH370 is found.