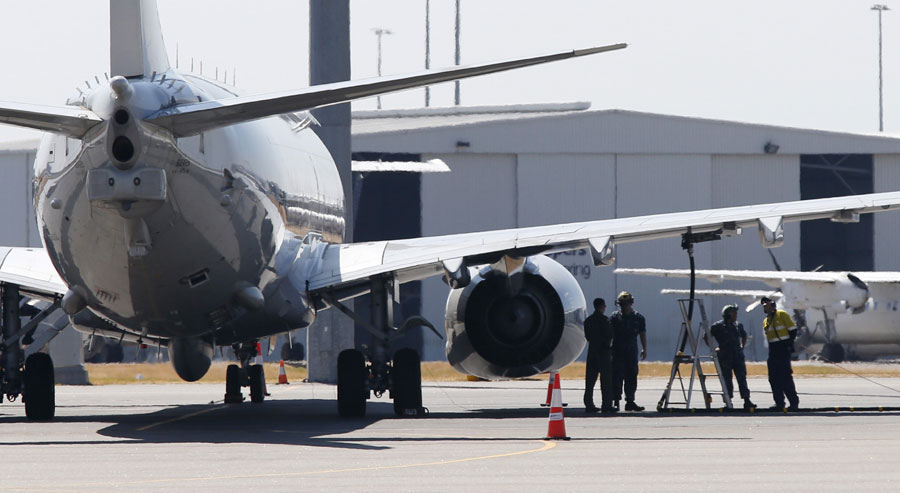 A US Navy Poseidon P8 maritime surveillance aircraft is refuelled for flight just before being grounded at Perth International Airport March 27 2014. Severe weather Thursday halted an air and sea search for a Malaysia Airlines passenger jet presumed crashed in the southern Indian Ocean, frustrating hopes of finding what new satellite images showed could be a large debris field.[Photo/Agencies]
PERTH, Australia - The search in the southern Indian Ocean for signs of missing Malaysia Airlines flight MH370 was partly suspended Thursday due to bad weather.
The Australian Maritime Safety Authority (AMSA) said via its Twitter feed that all aircraft were returning to Perth but all ships staying in search area would attempt to continue searching.
"Bad weather is expected for the next 24 hours," AMSA said.
Six military aircraft from four countries and five civil aircraft were scheduled to join the search on Thursday along with four Chinese ships and one Australian vessel.
Meanwhile, overnight news from the United States said that analysis of data from a flight simulator found in the home of MH370's captain was coming soon.
Malaysian officials had asked the FBI to help recover files deleted from the simulator's hard drive.
The U.S. Federal Bureau of Investigation (FBI) said Wednesday that experts were working "literally round the clock" in the hope that the data could provide clues as to what happened to the vanishing plane.
FBI chief James Comey did not indicate whether the results of the analysis would be made public.
Malaysian police removed the simulator from Captain Zaharie Ahmad Shah's home nearly two weeks ago, after investigators said they believed the Boeing 777 had been deliberately diverted from its intended route by someone aboard.
Malaysia said on Monday that evidence showed the flight MH370, which vanished while flying to Beijing from Kuala Lumpur on March 8, had "ended" in the southern Indian Ocean. The plane was carrying 12 crew and 227 passengers, including 154 Chinese.
A multinational search for the wreckage has since continued, with recent satellite photos from France showing 122 unidentified objects in the search area.