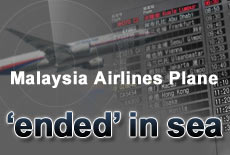 KUALA LUMPUR - The Malaysian government is expected to appoint an international panel on aviation security along with a parliament select committee to probe overall airline safety, but it downplayed the issue of two passengers boarding MH370 on stolen passports, an official said in Kuala Lumpur on Saturday.
Malaysia's Acting Transportation Minister Hishamuddin Hussein told media that the possibility of the two stolen passport holders having a hand in the disappearance of the Malaysian Airlines aircraft was ruled out earlier in the investigation and the " priority" remained to be the search and rescue operations.
"On the point of responsibility, I've indicated that not only the Malaysian air force is doing the panel of inquiry, the Ministry of Transport is coming up with an international panel, which is being formed at the moment.
"The Malaysian government is to decide whether it would have a parliamentary select committee or royal commission and I believe all our partners would like to see what we have discovered through this exercise," he said.
He pointed out that aviation industry stakeholders including Boeing, Rolls Royce, the FBI, Chinese agencies and the Air Accident Investigation Branch of the United Kingdom are involved in the search operations, which made the right platform to also discuss future security measures for the aviation industry.
"You practically got everyone in the aviation industry involved. This is the best time for everybody to relook, not only at the aviation landscape but also on the issue of security and defense."
The issue of the stolen passports cropped up again after local media reported Malaysian Interior Minister Zahid Hamidi telling the Malaysian parliament Wednesday that Interpol's vast database of lost passport records was "too large" and would be too much for Malaysia's database management system.
The charge was promptly rejected by Interpol in a statement that insisted it only took several seconds to check whether a stolen passport was being used by a passenger.
"Malaysia's decision not to consult Interpol's Stolen and Lost Travel Documents database before allowing travelers to enter the country or board planes cannot be defended by falsely blaming technology or Interpol," the strongly worded statement said.
"If there is any responsibility or blame for this failure, it rests solely with Malaysia's Immigration Department."
Hishamuddin also met with the family members of passengers aboard MH370 on Saturday. He said he was "strengthened" by their " reasonable" demands to keep hope alive for survivors, no matter how remote.
"At the moment we have six sightings on satellite, vessels are going there, I believe there were some visual sightings of the objects today. I have to get reports on whether they managed to retrieve those objects. Those will give some indication," he said.