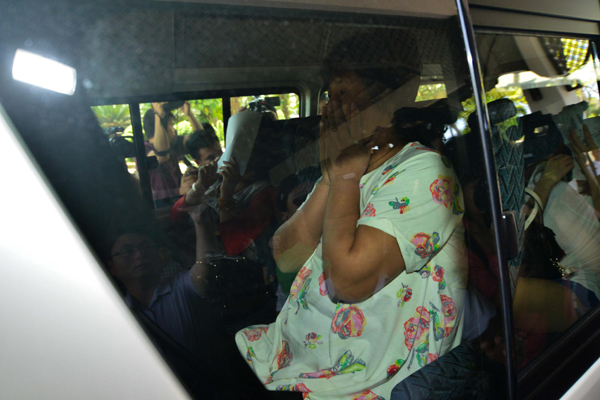 Some of the relatives of Chinese passengers aboard the missing Malaysia Airlines flight MH370 arrive at a hotel in Kuala Lumpur, Malaysia on March 11, 2014. [Photo/Xinhua]
KUALA LUMPUR - Malaysia Airlines said Wednesday afternoon that 115 family members of the passengers on its missing flight MH370 have arrived in Kuala Lumpur, capital of Malaysia.
The company said in a latest statement that "they are taken care of by 72 different caregivers, and at least one caregiver is assigned to each family together with a Mandarin translator for the families from China."
The carrier said its primary focus now is to care for the families of the passengers and crew of the aircraft, which disappeared Saturday morning on a flight from Kuala Lumpur to Beijing with 227 passengers and 12 crew on board.
"Equal amount of initial financial assistance are being given out to all families of passengers and crew...We regret and empathize with the families and we will do whatever we can to ease their burden," said the statement.
International search for the missing Boeing 777-200ER has entered the fifth day Wednesday, with little solid results yielded as yet.
Malaysia's air force chief Wednesday denied reports that radar had detected the plane over the Straits of Malacca, as search has expanded to the Andaman Sea, hundreds of kilometers to the northwest of the original search radius.