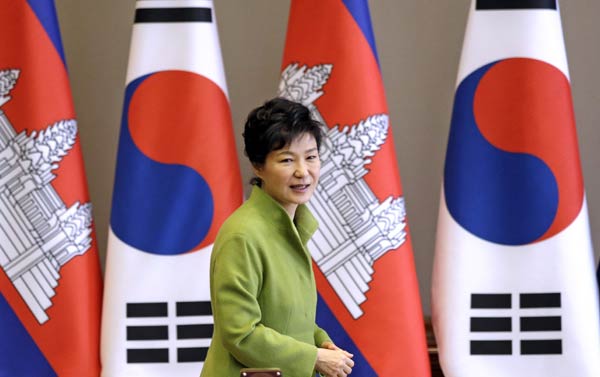 South Korean President Park Geun-hye arrives for a meeting at the presidential Blue House in Seoul December 13, 2014. [Photo/Agencies]
SEOUL -- South Korean President Park Geun-hye vowed on Wednesday to lay an "actual and detailed" foundation and open a way for reunification with the Democratic People's Republic of Korea (DPRK).
Park said in her New Year's message that she will end the 70- year division of the Korean Peninsula, which caused conflicts and severance, vowing to build an "actual and detailed" foundation for reunification by encouraging the DPRK to change based on trust.
Her comments came after the country offered on Monday to hold a dialogue in January with the DPRK on issues of mutual concern.
South Korea proposed to hold another round of reunion event for families separated by the 1950-53 Korean War, before the Lunar New Year's holiday comes in late February.
The country said it can talk with Pyongyang about "all" issues of mutual concern, including the lifting of the May 24 sanctions and the resumption of tour to Mount Kumgang that the DPRK has demanded.
Park also vowed to stimulate South Korea's sluggish economy by transforming economic structure based on innovation and creation, calling revitalizing the economy an "urgent issue."
The South Korean finance ministry has cut its 2015 growth outlook to 3.8 percent from an earlier forecast of 4 percent.
The consumer price inflation came in at 1.3 percent in 2014 after posting an identical figure in 2013, marking the first time that the headline inflation stayed below 2 percent for two straight years.
It sparked concerns about deflation as consumers may delay consumption on expectations for further fall in prices of goods and services as seen in Japan.