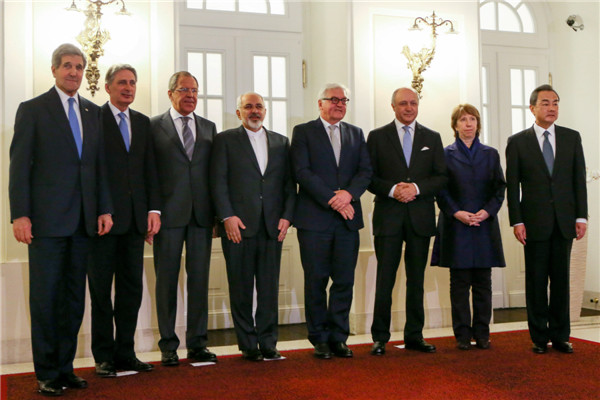 US Secretary of State John Kerry, Britain's Foreign Secretary Philip Hammond, Russian Foreign Minister Sergei Lavrov, Iranian Foreign Minister Javad Zarif, German Foreign Minister Frank-Walter Steinmeier, French Foreign Minister Laurent Fabius, EU High Representative Catherine Ashton, Chinese Foreign Minister Wang Yi (L-R) pose for a family picture during their meeting in Vienna, Nov 24, 2014. [Photo/Xinhua]
CAIRO -- For decades, Iran's controversial nuclear program has gotten on the nerves of the Western capitals. The latest seven-month talks extension between Tehran and the world powers have once again reminded the international community how hard it is to strike a fine deal.
It also alerted the negotiators that more courage to compromise -- the only key to unlock the nuclear impasse -- is still in shortfall.
Despite the fact that Iran and the major powers, also known as the P5+1 bloc grouping the United States, Britain, France, Russia, China and Germany, have twice missed the deadline for a comprehensive nuclear agreement, they have indeed made some key breakthroughs and progress towards solving the Iranian nuclear issue.
In September, 2013, US President Barack Obama and then-newly-elected Iranian President Hassan Rouhani spoke over the phone and agreed to accelerate the nuclear talks. It was the first direct talks between the leaders of the two countries since the 1979 US hostage crisis in Tehran.
Later in November, Iran and the world powers reached an accord, under which Tehran agreed to limit its uranium enrichment activities in exchange for a moderate relief of the West-imposed sanctions.
Over the months, Iran has also cooperated with the International Atomic Energy Agency (IAEA) to address some of the UN nuclear watchdog's concerns over the nuclear program.