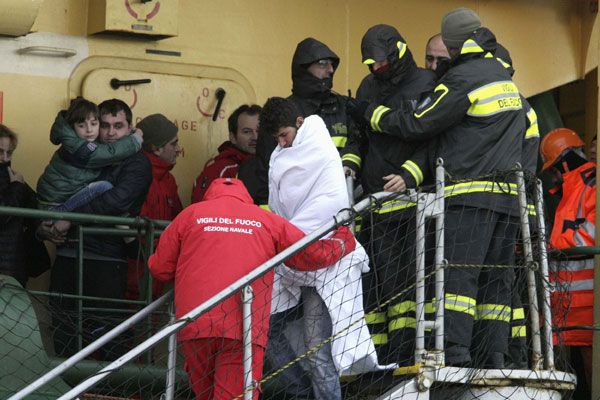 A passenger is helped as he leaves from the " Spirit of Piraeus" cargo container ship as they arrive in Bari harbour, after the car ferry Norman Atlantic caught fire in waters off Greece December 29, 2014.[Photo/Agencies]
ATHENS/BARI - Passengers from a car ferry, ablaze off the coast of Greece, arrived in Italy on Monday as rescue teams worked to save 149 people still stranded on board 24 hours after the fire started.
Rescuers worked through the night to pull 329 people off the multideck ferry, the Italian navy said.
Helicopter crews have been airlifting passengers from the upper deck of the Norman Atlantic, which caught fire in the early hours of Sunday and began drifting in rough seas between Greece and Italy.
Bad weather hampered efforts overnight to attach cables to the ferry for towing, and a tug boat is expected to reach the ship to make another attempt by 10 a.m. local time (0900 GMT), Greece's shipping minister Miltiadis Varvitsiotis told Skai TV.
No decision had been made on where the ferry would be taken, he said, although there had been expectations that it would be towed to the Italian port of Brindisi.
A merchant ship carrying a reported 49 of the ferry passengers, including four children, arrived in the southern Italian port of Bari on Monday and Italian Admiral Giovanni di Tullio told Sky TG24 they would receive medical attention.
Sky and Italian state television RAI reported that one of the people rescued said he had seen four people dead, but there was no confirmation of the report.