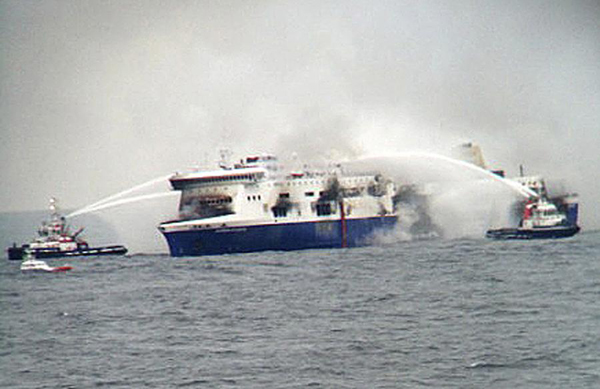 Fire fighting tug boats douche the burning car ferry Norman Atlantic in south Adriatic sea December 28, 2014. Hundreds of passengers were trapped on the ferry off Greece on Sunday, pleading to be rescued by a flotilla of nearby ships that battled storm conditions in open water to try to reach them. Photo by Reuers
A Greek male passenger has died on the Italian-flagged Norman Atlantic ferry burning in the Ionian Sea west of the Greek island of Corfu while trying to leave the vessel, a Greek government official said on Sunday.
Shipping Minister Miltiadis Varvitsiotis told media during the latest press briefing held at the port of Piraeus on Sunday evening that the Greek side was notified by Italian rescuers on the incident and the identity of the victim named Yorgos Doulis.
His wife Theodora was rescued by the Italian Coast Guard and has been transferred to Brindisi in southern Italy with other survivors.
More than 165 of the 478 people on the ferry, including 422 passengers and 56 crew members, have been rescued since early Sunday during a rescue operation coordinated by Italian authorities which was still under way amidst bad weather conditions.
Varvitsiotis stressed that the fire which had started at the ferry's car deck had been put under control by Sunday night and that the ferry would most likely be towed to Italy by a tugboat.
Norman Atlantic leased by a Greek shipping company had left the Greek port of Patras on Saturday afternoon for Italian port of Ancona. A fire broke out in the car hold early on Sunday morning by yet unknown causes. The vast majority of people on board were Greeks.
The evacuation operation has been hampered by gale-force winds,but officials from Italy and Greece stressed that rescue efforts would continue throughout the night.