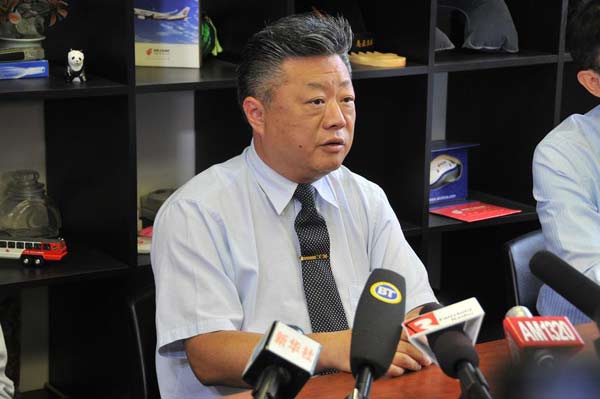 A company staff from Super Vacation, the largest Chinese tour operator in North America, briefs the media on the casualties of the bus crash in Vancouver, Canada, Aug 29, 2014. [Photo/Xinhua]
VANCOUVER - Six Chinese mainland passport holders are among the 54 passengers injured in a highway bus crash on Thursday in the western Canadian province of British Columbia, the tour company that chartered the bus said Friday.
The rest are from China's Taiwan and Hong Kong, as well as Canada, Japan and the United States, said Nicholas Kam, sales director of Super Vacation, who added that there are two children on the bus.
Kam said his company was cooperating with the hospitals and providing transportation and translation services for the injured passengers.
"Our priority is to help the customers first," he said. "In my heart I feel very bad about this."
Kam confirmed to Xinhua that it chartered the bus from Western Bus Lines, which has office in Vancouver, and that his company has suspended the use of Western Bus Lines pending the police final report.
On its website, Super Vacation claims to be the largest Chinese tour operator in North America. Established in 1981, the company currently has 15 branches and employs a staff of more than 300.
So far, local health authorities have confirmed that seven passengers remained in critical condition and six in serious condition, while 19 had been discharged from hospital.
Meanwhile, Canadian police told reporters that overspeed did not appear to be a factor, while human error or a mechanical problem likely caused the crash, which was a single-vehicle accident.
Police on Friday viewed a video taken from a tractor-trailer dash camera that showed the bus as it rolled and skidded.
Tire marks on the pavement show that the bus drifted into the grassy center median of the highway before it veered out of control as the driver attempted to correct its course, police said.