PYONGYANG - Japan's Upper House lawmaker Antonio Inoki arrived here in Pyongyang on Thursday with a delegation of professional wrestlers and started making final preparations for the Aug 30-31 international wrestling contest.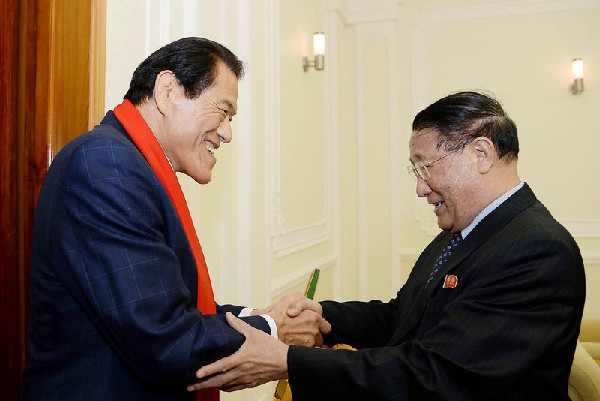 Japanese wrestler-turned-parliamentarian Antonio Inoki (L) shakes hands with Kang Sok Ju, secretary of the Central Committee of the Workers' Party of DPRK, in Pyongyang on Aug 28, 2014.[Photo/IC]
Inoki said it was important to deliver peaceful messages through sports exchange programs at a press briefing at Koryo Hotel, which was also joined by Jang Ung, Chairman of International Martial Arts Games Committee.
Despite difficulties facing DPRK-Japan ties, he still hoped to send messages of upholding world peace here from Pyongyang to the rest of the world by staging such a professional wrestling tournament.
On Tuesday, a trailer introducing the professional wrestling matches that take place at Ryugyong Chung Ju-yung Gymnasium from Aug. 30-31 was broadcast on the DPRK Central Television. It is the second time that Antonio Inoki, the wrestler-turned-politician, organizes a wrestling game in Pyongyang since 1995.
A total of 17 players from various countries including Japan, the United States, China, Brazil and France will take part in the matches, which include both one-on-one and two-on-two performances.
The wrestling matches, which followed Japan's lift of several sanctions imposed on the DPRK on July 4th as the DPRK agreed to reopen investigations into abductions of Japanese nationals in the 1970s and 1980s, are widely believed to help thaw the current strained relations between the DPRK and Japan.