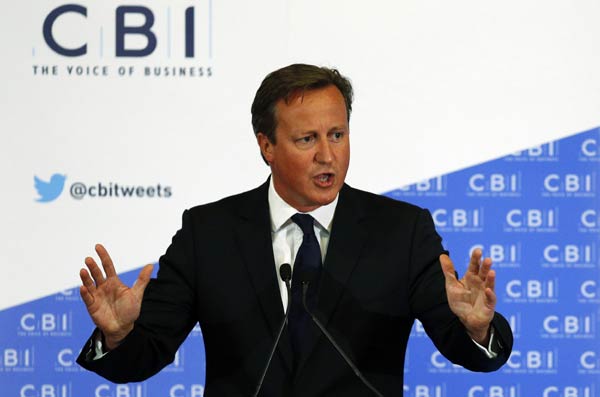 Britain's Prime Minister David Cameron delivers a speech to business people at the CBI dinner in Glasgow, Scotland on August 28, 2014. [Photo/Agencies]
EDINBURGH -- British Prime Minister David Cameron on Thursday night called on Scotland to take the great advantages of staying in Britain and be "better off together."
Speaking at the Confederation of British Industry (CBI) Scotland's annual dinner in Glasgow, Cameron stressed the opportunity, certainty, solidarity and scale of economy in the "union" over three centuries since 1707.
The British Prime Minister aimed to make the case for Scotland remaining in Britain to take the "Great advantages over Great unknown" and say No in the Scottish independence referendum on Sept. 18.
He termed Britain as one of the "oldest and most successful" single markets, saying that Scotland does twice as much trade with the rest of Britain than with the rest of the world put together, which helps to support 1 million Scottish jobs.
For some industries, the proportion of trade with the rest of Britain is even higher, with 90 percent of Scottish financial services' customers in England, Wales and Northern Ireland, said Cameron.
With just three weeks to go until the independence referendum, Cameron called on voters to consider about the benefit of no borders, no restrictions of trade flow in Britain with over 60 million people.
He also dismissed the alleged possible Plan B of joining Euro for the currency if pound sterling is refused in an independent Scotland.
Recent polls showed that support for the "Yes" camp is rising, yet still behind the "No" campaign with 23 days to go until the independence referendum on Sept. 18.
Cameron and Scottish First Minister Alex Salmond signed the Edinburgh Agreement in October 2012 to allow Scotland to hold an independence referendum in autumn 2014 on the question "Should Scotland be an independent country?"
The Kingdom of Scotland emerged as an independent sovereign state in the early Middle Ages and continued to exist until 1707, when it entered into a political union with the Kingdom of England.
In 1999, a devolved legislature, the Scottish Parliament, was reconvened with authority over many areas of home affairs, following a referendum in 1997.