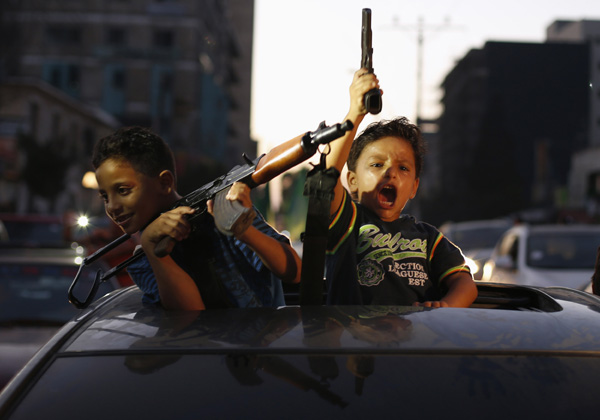 Palestinian children hold guns as they celebrate with others what they said was a victory over Israel, following a ceasefire in Gaza City August 26, 2014. [Photo/Agencies]
GAZA - A new Gaza ceasefire came into effect on Tuesday at 7:00 am (0400 GMT), after an agreement, brokered by Egypt, reached between Israel and the Palestinian factions, including Hamas movement.
At 7:00 pm militants intensively fired into the air celebrating what mosques announced on loudspeakers that the Palestinian resistance has made a victory. Cars in the streets turned its front lights on and drivers pressed on the horns of their cars.
Palestinian President Mahmoud Abbas announced on Tuesday evening that a ceasefire agreement reached in Cairo between Israel and the Palestinians will be valid at 7:00 pm (0400 GMT) in the Gaza Strip.
Abbas made a brief statement aired on the official Palestine Television that a long-term truce agreement was reached in Cairo and it is valid at 7:00 pm. (0400 GMT).
"I would like to announce that the Palestinian leadership accepted Egypt's call to go for a comprehensive and permanent ceasefire and then we will work on meeting the demands and the needs of our people in Gaza," said Abbas.
Sami Abu Zuhri, Hamas spokesman in Gaza, told reporters at Shifa Hospital that Hamas movement and the Palestinian resistance won the battle against Israel and achieved an honorable victory.
"With the help of God and the sacrifices of our people, today, we declare our victory on the Israeli power of repression. Our armed resistance achieved what the Arab armies had failed to achieve," said Abu Zuhri.
He added that "this besieged weak people defeated the strongest power of army in the Middle East and destroyed the enemy's power of deterrence and the legend of the army that can never be defeated."
"Now Hamas allows the Israelis in the settlements outside the Gaza Strip to return to their homes after the ceasefire agreement came into effect. It is Hamas decision and not the decision of Benjamin Netanyahu," said Abu Zuhri.
Khaled al-Batsh, a senior Islamic Jihad leader and member of the Palestinian delegation for indirect ceasefire talks with Israel said in a text message that "Egypt informed us that Israel accepted the ceasefire agreement according to the Palestinian conditions and demands ... We are waiting for the zero hour to declare the ceasefire deal."
On July 8, Israel started to wage a large-scale air, sea and ground military operation against Gaza Strip militant groups, including Hamas and Islamic Jihad movements.
The Gaza health ministry said in a press statement that during the offensive on the Gaza Strip, Israel killed 2,140 and wounded 11,100 others. Meanwhile, Israel said Gaza militants killed 69 Israelis, including 64 soldiers and five civilians.