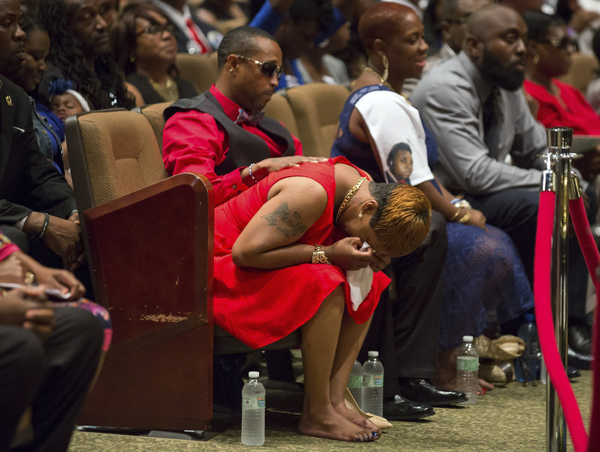 Lesley McSpadden, mother of Michael Brown, reacts during her son's funeral services at Friendly Temple Missionary Baptist Church in St. Louis, August 25, 2014. Family, politicians and activists gathered for the funeral on Monday following weeks of unrest with at times violent protests spawning headlines around the world focusing attention on racial issues in the United States. [Photo/Agencies]
FERGUSON, United States - Funeral for 18- year-old Michael Brown shot and killed by police in Ferguson in the U.S. state of Missouri was held Monday morning at a Baptist church in St. Louis City.
The 2,500-seat church was full of mourners, while thousands of others stood outside the church, paying their respect to and showing support for the Brown family.
A man was selling T-shirts printed with "Hands up don't shoot", while another was handing out leaflets for a candidate for a city political position.
Emotions of the people at Brown's funeral were running high under the heat of the day. There were shouts of protest as well as sadness for Brown and the town of Ferguson. Justice was in the thoughts of many.
"We need more justice from the police," said self-employed Rico Smith. "You can't kill the people you strive to protect and serve, " said the 30-year-old.
Two people fainted and had seizures due to the heat. They were sent to the hospital.
At the funeral, Reverend Al Sharpten, President of the National Action Network, criticized police actions in the case, and said authorities were wrong for pointing rifles at protesters. He also spoke of recent incidents of police violence in America, saying " it's time to deal with policing."
"America, how do you think we look when young people march nonviolently asking for the land of the free and home of the brave to hear their cry and you put snipers on the roof and pointed guns at them?" Sharpten asked.
"Michael Brown's blood is crying from the ground, crying for vengeance, crying for justice," said Rev. Charles Ewing, uncle of the teenager.
Martin Luther King III, and the families of Trayvon Martin and Sean Bell, also victims to police shooting, attended the funeral service.
The White House sent three representatives to the funeral.
Shooting of Brown by police on Aug. 9 has triggered over two weeks of protests and riots in Ferguson against police violence and racial profiling.
St. Louis County Prosecuting Attorney Bob McCulloch has convened a grand jury to hear preliminary evidence in the case. US Attorney General Eric Holder also visited Ferguson and promised a "fair and independent" federal inquiry.