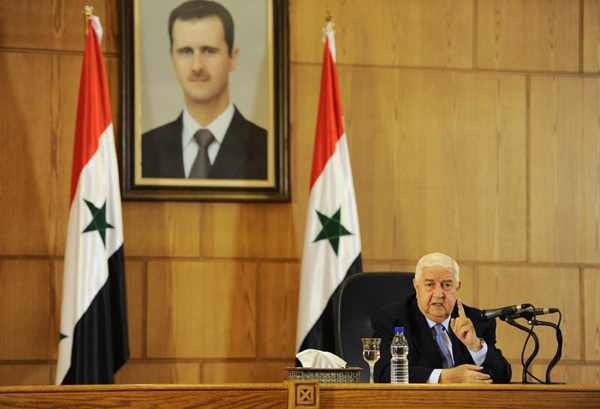 Syria's Foreign Minister Walid al-Moualem speaks during a news conference in Damascus August 25, 2014. [Photo/Agencies]
DAMASCUS - Syrian Foreign Minister Walid al- Moallem said on Monday that any international effort to battle terrorism inside Syria must come in coordination with the Syrian government, stressing his country's readiness to cooperate on the regional and international levels to fight terrorism.
At a press conference held in the capital Damascus, al-Moallem stressed that his country welcomes United Nations Security Council Resolution 2170 on battling terror in Syria and Iraq, even though it "came late."
"Syria is ready to cooperate and coordinate on the regional and international levels to confront terrorism in the framework of respecting the sovereignty of Syria," al-Moallem said.
He reiterated that any uncoordinated international intervention to fight terrorism inside Syria would be considered a violation to the sovereignty of Syria.
Explaining the steps that should be undertaken, al-Moallem said there should be a serious political work to dry out the sources of terrorism in cooperation with the Syrian government "because we know better than others what is going on in our territory."
Al-Moallem said he would even welcome cooperation with the US or any other international power as long as they are serious about battling terrorism.
Regarding the recent US remarks about the need for the US air force to strike the positions of the Islamic State (IS) militants in Syria, al-Moallem said that his government is offering cooperation and coordination to strip the US of any pretext to unilaterally act against IS positions in Syria without coordination with the Syrian government.
"Firstly we have proposed coordination and cooperation with everyone and the goal behind that is to prevent any aggression against Syria, and secondly to prevent any misunderstanding because we have air defenses ready to protect Syria against any aggression," he noted.
Commenting on reports about an unsuccessful covert US operation last month to free kidnapped US journalists in Syria, al-Moallem said had the US coordinated with the Syrian government, the chances of failure would have been slimmer.