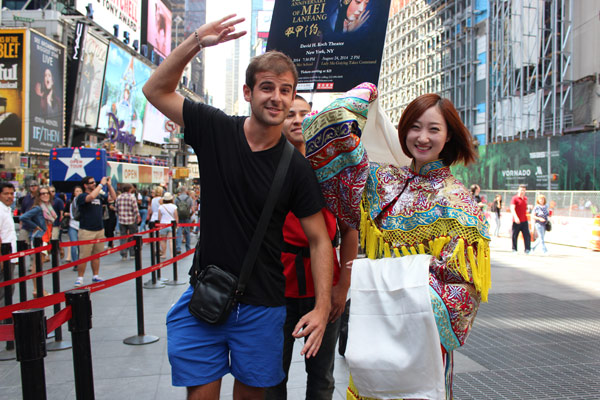 A performer (right) from the 120th anniversary of Mei Lanfang from Jingju Theater Company of Beijing poses with a visitor in Times Square, New York City on Tuesday. The performance will be at the David H. Koch Theater on Wednesday, Saturday, and Sunday, tickets are still available. Elizabeth Wu / China Daily
Known as the most outstanding Peking Opera performer of all time, Mei Lanfang (1894 -1961) is being remembered this week with presentations in New York City commemorating his birth 120 years ago in Beijing.
Performances will take place on Wednesday, Saturday, and Sunday at the David H. Koch Theater in New York. More performances will occur at the John F. Kennedy Center in Washington on August 27 and 28.
In Mei's 50-year opera career, he portrayed female characters which won him international acclaim. His smooth, poised style is known as the Mei School. He was one of the Four Great Dan (female role) opera performers in the golden era of Peking Opera. In the Peking Opera, the female parts, like Shakespearean plays in England, were originally performed by men.
Mei was the first actor ever to present Peking Opera in foreign countries. Mei toured the world and visited Hollywood, Berlin, Moscow, and Japan. He formed friendships with western performers, including Charlie Chaplin. Mei Lanfang was his stage name; his real name was Mei Lan.
Mei's son Mei Baojiu and members of the Jingju Theater Company of Beijing will present The Classic Plays of the Mei School, including five operas: The Goddess of Heaven Scatters Flowers, Lian Jinfeng Pierce the Mussel, Resisting Jin Troops, Farewell My Concubine and Drunken Beauty. The Goddess of Heaven Scatters Flowers is one of the most historically significant works by Mei, in which a heavenly woman performs a poetically expressive ribbon dance; the show will also include a unique sword dance.
On Tuesday morning, opera singers Dou Xiaoxuan, Wang Mengting, Wang Bowen, and Li Jian brought their moves to the streets of New York, even teaching tourists in Times Square a move or two.
Ian Whiton was visiting Times Square with his mother Sandy from Seattle. Whiton performed western style opera with the youth chorus of the Seattle Opera in 2011 and he was excited to see the Peking Opera performers.
"It's important to keep traditional operas alive," said Sandy, adding that both western opera and Chinese opera bear the same challenges in a modern society where interest in the opera is limited.
"Your opera friends are going to be so excited," said Sandy to her son.
For China Daily