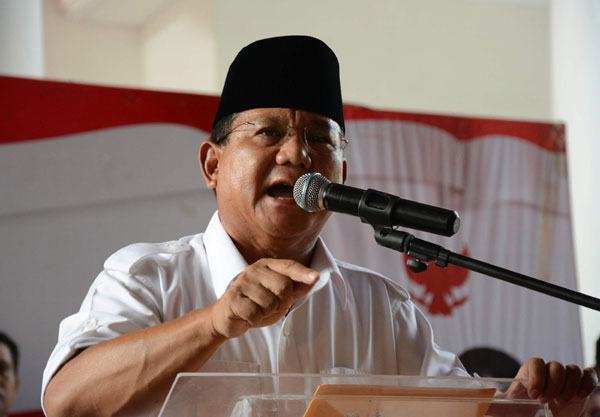 Indonesian presidential candidate Prabowo Subianto delivers a statement to the media in Jakarta July 22, 2014.[Photo/Agencies]
JAKARTA - Indonesia's president candidate Prabowo Subianto on Tuesday announced withdrawal of himself and his running mate Hatta Radjasa from the developing election process for massive, structured and systematic frauds they claimed to have found in July 9 presidential election.
The pairing ordered their team taking part in vote recapitulation process held in the General Election Commission ( KPU) to walk out, rejecting any legal decision issued by the KPU related to the election.
The announcement was made in Prabowo Subianto's camp headquarters in House of Polonia, East Jakarta while vote recapitulation process in the KPU was underway.
"We withdraw from the ongoing (election) process. We don't want to sacrifice mandate given by the people," Prabowo said in his party coalition headquarters here.
Prabowo said that his lawyer and election witnesses have found many frauds during the conduction of the presidential election in several areas across the country.
Prabowo regarded the frauds which had happened during the election as structured, massive and systematic.
He said that KPU apparently defies recommendations issued by the Election Monitoring Body (Bawaslu) to hold revoting in areas suspected to see the frauds in July 9 election.