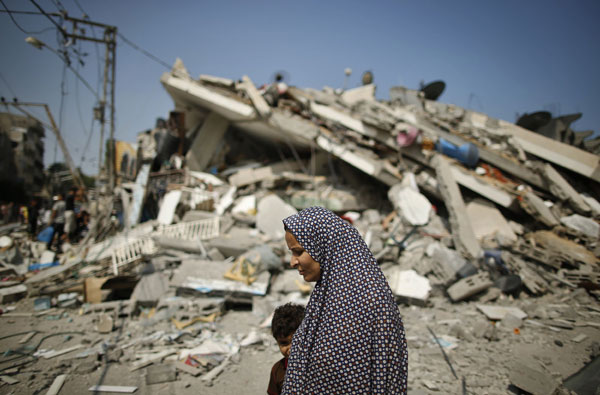 A Palestinian woman walks past the rubble of a residential building, which police said was destroyed in an Israeli air strike, in Gaza City July 22, 2014.[Photo/Agencies]
CAIRO - The United States would provide 47 million US dollars in humanitarian aid for Gaza Strip hit by two weeks Israeli strikes, Secretary of State John Kerry pledged late Monday.
Kerry arrived in Cairo on Monday and held talks with the visiting United Nations Secretary General Ban Ki-moon. He said " Washington is deeply concerned about the consequences of Israel's appropriate and legitimate effort to defend itself."
Kerry said "No country can stand by when rockets are attacking it, and its tunnels are dug to enter the country and assault your people."
"But always, in any kind of conflict, there is a concern about civilians, about children, women, communities that are caught in it," Kerry told reporters.
World efforts are intensified as to end the deadly violence in and around Gaza enclave as the US top diplomat and the UN chief both held talks with the Egyptian Foreign Minister Sameh Shukry on Monday.
US Secretary of State John Kerry flew to the region after President Barack Obama urged an "immediate ceasefire."
UN chief Ban Ki-moon was already in the region on a tour to build support for a truce proposed by Egypt for ceasefire and met the ruler of Kuwait, current chair of the Arab League, before heading to the Egyptian capital.
Kerry's statement came after Ban Ki-moon and Egyptian Foreign Minister Sameh Shukry told reporters that the Egyptian peacemaking bid is "comprehensive" and that it is mainly in favor of the Palestinian people, particularly those suffering a massive Israeli military strike on the Gaza Strip.
The Israeli offensive against Gaza, which started on July 8, has left at least 550 Palestinians killed and 3,350 injured according to Gaza Health Ministry spokesman. The rockets of Gaza- ruling Hamas movement left two dozens of Israeli soldiers dead.
The UN chief called on both parties to stop the violence "now" without any preconditions, stressing that both the Palestinians and the Israelis should address the real reasons for the conflict.
Ban reaffirmed his support for Egypt's ceasefire initiative, which was accepted by Israel but rejected by Hamas. Hamas said the proposal was not comprehensive and without guarantees for ending the 6-year-long Israeli siege imposed on the restive enclave.
Kerry held his official talks with his Egyptian counterpart Sameh Shukry on Tuesday morning over Gaza, official news agency MENA reported.
State news reported Sisi will meet later on Tuesday with Kerry and UN secretary general for resuming talks over Gaza and Egypt- proposed bid to ceasefire, efforts to achieve a cessation of hostilities as soon as possible. Kerry extended his visit till Wednesday.
Arab League chief Nabil al-Arabi has voiced hope that Hamas would accept Egypt's initiative for ceasefire.
Following his meeting Monday with visiting United Nations chief Ban Ki-moon, Arabi noted that his meeting with Ban tackled the worsening situation in the Gaza Strip due to the Israeli offensive and massacres in the enclave.
The meeting also addressed means to enforce a ceasefire as soon as possible and providing protection for the Palestinians, Arabi added.