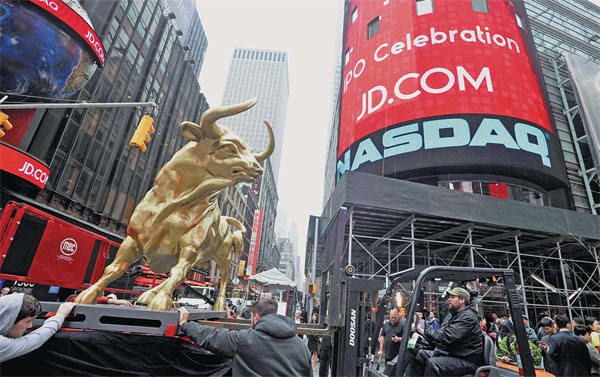 A big screen at NASDAQ displays congratulatory messages for JD.com Inc, which was listed on the exchange on May 22. JD.com is China's largest online direct sales company by volume. Wang Lei / Xinhua
In one of its richest hauls, nasper's investment in a high-tech start-up grew some 1,500 fold
Naspers, the Cape Town-based multinational, made an audacious bet on a loss-making Chinese Internet company more than a decade ago.
In 2001, the South African company's iconic founder Koos Bekker took what many people viewed at the time as a reckless high-tech gamble when he invested $32 million for a 46.5 percent stake in a then little-known Chinese start-up.
That target, Tencent Holdings, is today one of China's technology miracles - the country's largest Internet company, with a market value of nearly $140 billion, best-known at home for its market-dominating mobile messaging apps WeChat and QQ.
The Hong Kong-listed company has just posted first-quarter profits that beat analyst estimates, with net income rising 60 percent to 6.46 billion yuan ($1.04 billion) in the three months ended March 2014, from 4 billion yuan a year earlier.
Based in Nanshan Hi-Tech Industrial Park in the southern Chinese city of Shenzhen, Tencent was recently crowned as China's most valuable Chinese brand, according to the Hurun Report, a leading measurer of China's wealthy.
Naspers still owns nearly a third of Tencent, and its stake is said by some analysts to be worth around 1,500 times what Bekker initially injected.
Founded in 1915 as Nasionale Pers, or National Press, Naspers first began its overseas push following the end of apartheid in South Africa in 1994.
Today it operates a highly lucrative pay-television business across South Africa and much of Africa, and has stakes in newspapers and magazines in South Africa and other emerging markets.
As a consequence of Tencent's listing in Hong Kong in 2004, its shareholding was diluted to 35 percent, but Bekker still remains on the Tencent board, just as Pony Ma, Tencent's iconic chairman and CEO, also retains his seat on the Naspers board.
Some analysts estimate Naspers' 35 percent accounts for as much as 80 percent of its revenues.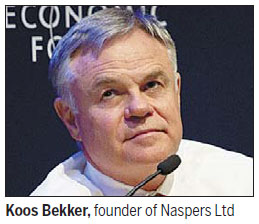 Bekker's 2001 bet on the fledging Tencent might well qualify as one of the smartest $32 million ever spent - but it is far from isolated in the annals of foreign investment in Chinese e-commerce.
Some current and former employees of China's other e-commerce leviathan, Alibaba Group, for instance, are expected to become millionaires as the conglomerate heads into what is expected to be one of the largest initial public offerings in global history.
According to Alibaba's draft prospectus, employees hold 26.7 percent of existing shares, which could translate into roughly $44.8 billion worth of unlocked shares, according to estimates from a Bloomberg survey of analysts.
As the largest e-commerce company in the world and owner of the massive Taobao shopping site, Alibaba Group is valued at $200 billion.
But its employees, who built the company from scratch over some 15 years, are not the biggest winners of the Hangzhou-based company's upcoming IPO in the United States. Its foreign investors who are likely to grab the biggest slice.
Also, Masayoshi Son, the chairman of Japan's SoftBank, a top telecommunications and Internet investor, is likely to regain his position among the world's richest people due to the well-timed bet he made on Alibaba Group back in 2000. With the $80 million he invested, SoftBank is Alibaba's largest shareholder with a 34 percent stake now believed to be worth more than $57 billion.
Yahoo! Inc, the US-based multinational Internet giant, which invested $1 billion and holds 23 percent of Alibaba, could also reap billions from Alibaba's potential $20 billion listing.
"It is difficult to find TMT (technology, media and telecom) companies which have an annual growth of 50 percent in developed markets," says Annabelle Long, managing partner with Bertelsmann Asia Investments, a venture capital firm owned by the German multinational mass media corporation Bertelsmann.
"Growth rates even as low as 20 percent in Europe or the United States are difficult to find. But companies with such strong growth momentum can be found everywhere in China," she says.
"TMT is a high-growth sector in China compared with traditional industries," Long adds.
She rather nicely describes the country's TMTs as having potential as deep as "a blue ocean".