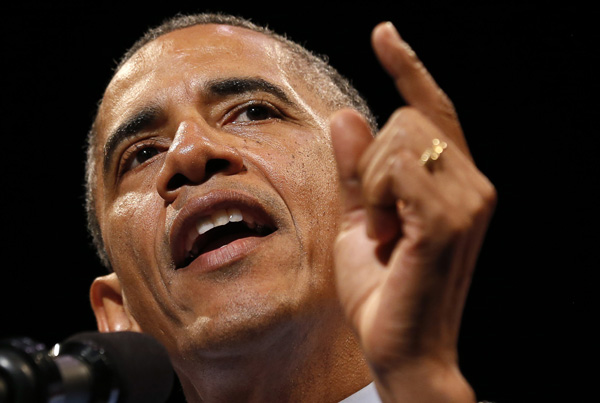 US President Barack Obama speaks about the economy during a visit to Austin, Texas July 10, 2014. [Photo/Agencies]
WASHINGTON - US House of Representatives Republicans said on Thursday they intend to make President Barack Obama's changes to his signature health insurance law the focus of a forthcoming lawsuit accusing him of overstepping his legal authorities.
The House Rules Committee made public a "discussion draft" of legislation to authorize legal action against the president for misusing executive orders and other unilateral actions to advance his agenda.
House Speaker John Boehner first announced plans for a House lawsuit against Obama late last month.
The draft does not mention specific grievances, but gives Boehner authority to seek injunctive relief for failure by Obama and members of his administration for failure to act in a manner consistent with the Constitution and US laws "with respect to implementation of (including failure to implement) the Patient Protection and Affordable Care Act."
Republican lawmakers, who have been trying unsuccessfully to repeal the 2010 law for years, regularly decry the Obama administration's decision to delay Obamacare coverage mandates and grant various waivers as illegal without congressional approval.
The moves come less than four months before congressional elections in which Republicans are trying to expand their House majority and wrest control of the Senate from Obama's fellow Democrats.
In a statement on Thursday, Boehner said, "This isn't about Republicans versus Democrats; it's about the legislative branch versus the executive branch and above all protecting the Constitution."
It also comes amid chatter from some corners of the Republican Party that the House should initiate impeachment procedures that would be the first step toward trying to remove Obama from office.
Boehner has tamped down such talk.
Democratic Representative Steve Israel, who heads his party's efforts to retake majority control of the House, derided the Republicans' pending suit as a "stunt".
"First this Republican Congress shut down the government over the Affordable Care Act and cost the economy billions of dollars. Now, they're spending millions more to sue the president over ACA," Israel said in a statement.
The Rules Committee language kept a tight focus on Obamacare, instead of casting a wide net against the president's actions.
Republicans have complained about many of Obama's recent moves, including raising the federal minimum wage for federal contractors, implementing new pollution controls on coal-fired power plants, suspending deportations against some undocumented residents and extending family leave rights nationwide to workers in same-sex marriages.
In the face of Republican resistance to his agenda, Obama increasingly has talked about looking for ways of using his executive authority to circumvent legislative logjams.
Assuming the Republican-controlled House passed the lawsuit authorization, it likely would take a long time for the case to wind its way through US courts.
Obama has criticized the Republican threats of a lawsuit.
"You're going to sue me for doing my job? OK. I mean, think about that, you're going to use taxpayer money to sue me for doing my job, while you don't do your job," Obama said in remarks to political donors on Thursday in Austin, Texas.