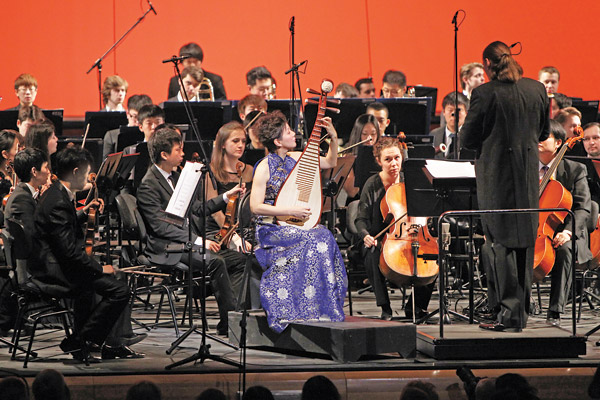 A Chinese performer takes part in a show in St. Petersburg, Russia, on March 28 during the opening ceremony for the China-Russia Year of Friendly Youth Exchanges. A number of events will be held in Russia and China simultaneously in 2014 and 2015. President Xi Jinping and his Russian counterpart Vladimir Putin sent congratulatory messages to the participants in the youth exchanges year. Lu Jinbo / xinhua

Sino-Russian diplomacy
Editor's note: Russian Foreign Minister Sergey Lavrov is scheduled to arrive in Beijing on Tuesday morning for a one-day visit. He will call on President Xi Jinping and hold a key meeting with his Chinese counterpart Wang Yi. Ahead of his visit on Monday, Lavrov gave China Daily an exclusive interview to share with readers his thoughts on issues including bilateral ties, anti-terrorism efforts and coordination on global affairs.
Question 1
China and Russia have engaged in comprehensive strategic political, economic and military cooperation. In 2014-15 they will celebrate the Year of Youth, which will take their bilateral relations to a yet higher level. What is your assessment of these relations and the cooperation between China and Russia?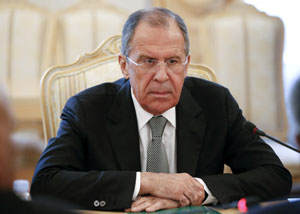 Russian Foreign Minister Sergey Lavrov, a seasoned envoy comfortable at diplomatic table
In recent years, the comprehensive partnership and strategic cooperation between Russia and China has reached an unprecedented level, which is beneficial for the development within our countries and the improvement of their international role.
The greatest degree of mutual trust, first and foremost in the political sphere — to which regular high-level confidential meetings attest — is a sound basis for further progress in each and every area.
China is Russia's major trading partner. According to the figures for the last year, despite the unfavorable trends in the world economy we managed to keep our trade volume high. In fact, it reached $88.8 billion. There is also an increase in our mutual investments. We are enhancing our energy cooperation and implementing strategic arrangements on increasing Russian oil supplies to the People's Republic of China. In addition, China has engaged in a gas production project on the Russian Arctic shelf.
Chinese-Russian humanitarian cooperation has been developing dynamically. The Year of Chinese Tourism in Russia concluded with success, and on March 28 a new important project was launched in St. Petersburg, the Year of Friendly Youth Exchanges that are to be held in the two countries simultaneously in 2014-15.
The strengthening military ties, including regular joint exercises, are yet another remarkable indication of the special nature of our bilateral relations. The Russian and Chinese navies closely cooperate in guarding the convoys transporting chemical weapons from Syria.
Close cooperation in the international arena is the most important aspect of the Chinese-Russian strategic partnership. Our countries advocate a more just and democratic polycentric world order based on fundamental principles of international law and the central coordinating role of the UN. It is pivotal that in today's complex and unpredictable global context we understand and respect each other's interests and concerns.
Russia and China attach great importance to cooperation within multilateral formats, including the UN, G20, BRICS, the SCO and the Russia-India-China trilateral format (RIC), prioritizing enhanced efficiency of responses to global challenges and threats and promotion of sustainable development.
During my visit to China, my colleague Wang Yi and I intend to engage in an in-depth exchange of views on a broad range of current global and regional issues, including the situation in Syria, the Iranian nuclear program, the situation on the Korean Peninsula, as well as that in Afghanistan in light of the presidential elections that took place in the country on April 5. Our two countries have coinciding or similar approaches to the majority of international problems and are ready to further harmonize their positions.
We intend to devote particular attention to cooperation within the Shanghai Cooperation Organization. We aim to synchronize the efforts to ensure further development of the SCO, one of the key elements of economic growth and strengthened security in Central Asia.
Discussion of the complex situation in Ukraine has also been put on the agenda. We appreciate Beijing's measured and impartial stance on the Ukrainian crisis, as well as China's manifest understanding of all its manifold aspects, including the historic ones.