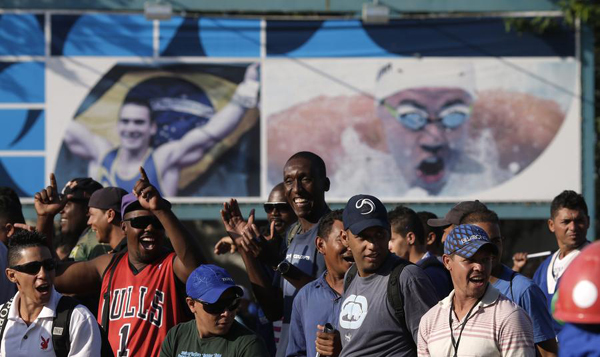 Construction workers on strike protest outside the Rio 2016 Olympic Park construction site in Rio de Janeiro, April 8, 2014. Workers building Rio's 2016 Olympic Park fought with security guards on Monday but although shots were fired no one was injured in the melee, eyewitnesses said. Scuffles broke out between guards and construction workers on strike for more pay and better union representation. The workers closed several busy avenues around the site on Monday and trouble ensued. [Photo/Agencies]
RIO DE JANEIRO - More than 2,000 workers at Rio de Janeiro's 2016 Olympic venues remained on strike Friday, and the city's mayor warned that the workers will have to make up for lost time.
The consortium Rio Mais, which is building venues at the Olympic Park, confirmed the continuing work stoppage. The strike began April 3 and is one of many delays plaguing South America's first Olympics.
Rio Mayor Eduardo Paes says it's the responsibility of Rio Mais to resolve the strike.
"The consortium is hired and paid for this. It has a deadline to deliver," Paes said. "Therefore, this is a relationship between them and their employees. It's a discussion between them. I'm not going to get into this. Afterward they will have to recover this week, these lost days."
Workers are defying the order of a regional labor court, which ruled Wednesday they should return. The court said a settlement should be negotiated in the next 30 days. The dispute involves wages and working conditions.
"Any strike is worrying," Paes added. "Whenever you are doing a job and delivering work, you don't want a strike."
International Olympic Committee President Thomas Bach said Thursday he was sending Gilbert Felli, the IOC's executive director of the Olympic Games, to Rio several months earlier than scheduled to deal with construction problems and the political paralysis that are putting some sports venues at risk.
The IOC is also sending several task forces to Rio, hiring a local project manager to oversee construction and urging Brazil to set up a special high-level decision-making body for the games.
Delays in Rio are being compared to holdups that have slowed Brazil's upcoming World Cup preparations, with three of 12 stadiums still under construction and numerous related building projects cancelled or postponed.