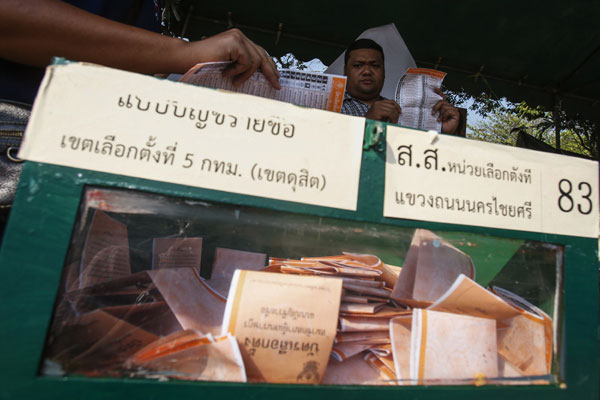 Election commission officials display ballot papers to the media while counting votes at a polling station in Bangkok February 2, 2014.
[Photo/Agencies] 
BANGKOK - Thailand went through with its general election in a surprisingly peaceful way Sunday, with no injuries reported throughout the kingdom, but polling results will not be announced anytime soon.
Sunday's voting lasted from 8 a.m. till 3 p.m. local time with a total of 93,952 polling stations set up in 375 constituencies nationwide for 48.77 million eligible voters.
Around 130,000 police officers, along with several thousand soldiers, have been deployed nationwide to maintain order at polling stations.
Several violent incidents on the eve of the election day left nine people wounded, and accordingly, fears of bloodshed run high ahead of Sunday's voting.
However, no major clashes between government supporters and protesters took place throughout the election day except that a gunshot was heard at the Din Daeng district in the capital. No injury has been reported so far.
Caretaker Prime Minister Yingluck Shinawatra said she was satisfied to see the election proceed with no serious violence and expressed gratitude for the collaboration among all concerned parties.
Established political figures including Yingluck, Supreme Commander Thanasak Patimaprakorn and Army Chief Prayuth Chan-ocha cast ballots with no disruption from protesters.
But more than 10,000 polling stations at 69 constituencies in 18 provinces were forced to cancel voting due to protests or the lack of election officials and ballots, Election Commission (EC) Chairman Supachai Somcharoen said.
EC member Somchai Srisuthiyakorn failed to cast his vote as no election officials turned up at his polling station, which was later announced closed.
It is estimated that around 12 million eligible voters failed to cast ballots Sunday, for whom a by-election will be organized at a later date.
Election results will not be announced until the EC has counted ballots from all polling stations, advance voting and overseas voting, according to Supachai.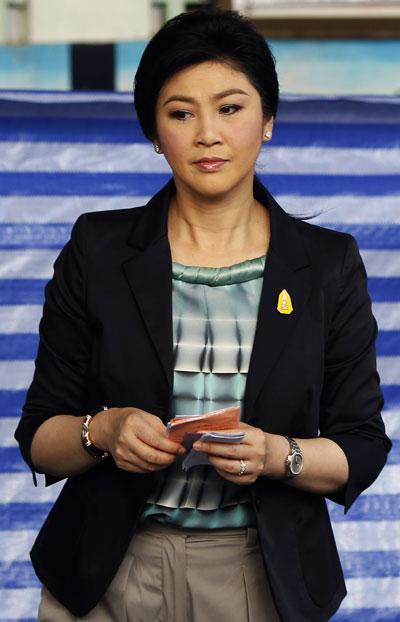 Thai Prime Minister Yingluck Shinawatra holds her ballot before casting it at a polling station in Bangkok February 2, 2014. 
 [Photo/Agencies]
A new round of voting has been set for February 23 for 83 constituencies where advance voting on January 26 was obstructed by protesters.
From January 12 to 26, 38,350 out of 143,807 registered Thai voters living abroad cast their votes in advance for Sunday's general election, reports said.
The EC will continue to perform their duties in an honest, lawful and fair manner, Supachai said.
The EC is also planning to seek a solution to the absence of constituency-based candidates in 28 constituencies in eight southern provinces.
As the Thai constitution requires a minimum of 95 percent of the 500 seats in the House of Representatives to be filled to validate the convening of the House, the lack of candidate in the 28 constituencies will prevent the election from generating enough MPs.
EC members are considering candidate re-registrations in these constituencies, but they are also concerned about legal risks that may constitute grounds for nullifying the general election as the constitution stipulates the election should not be held in excess of a day, Supachai said.
After the conclusion of the election, protest leader Suthep Thaugsuban threatened to sue Yingluck for wasting some 3.8 billion baht (117.7 million US dollars) in holding an election that he called unsuccessful.
The EC would not be able to announce the polling results because of the very low voter turnout, Suthep said.