WASHINGTON -- US President Barack Obama offered a series of changes to the National Security Agency (NSA)' s controversial surveillance practices on Friday, seven months after leaks by formal defense contractor Edward Snowden sparked controversy and furor around the world.
In a highly anticipated and carefully worded speech at the Justice Department, Obama outlined his plan to pull back part of the NSA's surveillance programs while defending the role of secret surveillance in the post 9/11 era.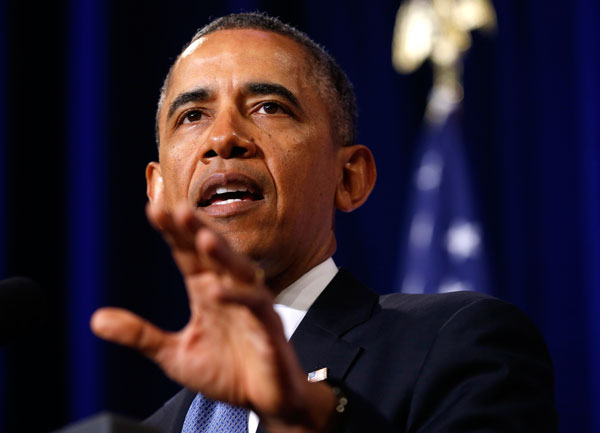 US President Barack Obama speaks about the National Security Agency from the Justice Department in Washington Jan 17, 2014. [Photo/Agencies]
DOMESTIC CHANGES NEEDED BUT "NOT SIMPLE"
At the heart of the changes to domestic surveillance is Obama's proposal to alter the bulk collection of US citizens' phone records, known as Section 215 of the USA Patriot Act.
"I am therefore ordering a transition that will end the Section 215 bulk metadata program as it currently exists, and holding this bulk metadata," said the president.
However, he did not echo a key recommendation made by an outside advisory group he appointed surrounding domestic phone surveillance program.
According to the report released last month by the White House, the panel brought up 46 recommendations to reform the NSA surveillance. Among them was a suggestion that the government's current bulk storage of telephone metadata should be held by either private providers or a private third party.
"This will not be simple," Obama said in his address, adding that both options will pose "difficult problems."
He directed Attorney General Eric Holder and the intelligence community to develop options for a new approach of the program without the government holding the metadata and report back to him before March 28.
To respond to the privacy woes at home, Obama also asked Congress to approve the establishment of a panel of advocates who can represent privacy interest before the Foreign Intelligence Surveillance Court, the special court that reviews and greenlights the surveillance practices.
As the proposal of the new panel, part of the president's proposed reforms will require authorization by Congress. It is not clear what measures will finally be taken into effect in the coming months.