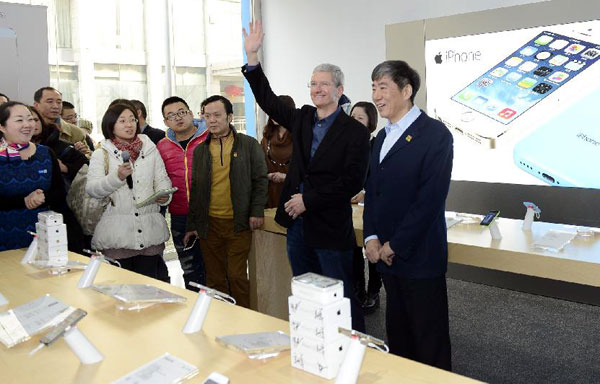 Apple's CEO Tim Cook (2nd R) and China Mobile Chairman Xi Guohua (1st R) attend the issue of iPhone models for 4G in Beijing, capital of China, Jan  17, 2014. China Mobile, the world's biggest mobile network, received a 4G license from the Ministry of Industry and Information Technology in December 2013. Soon after that, China Mobile and Apple announced an agreement on Dec 23 to provide 4G service with iPhone models from Jan 17. [Photo / Xinhua] 
Retail debut follows deal with China Mobile to sell the smartphone
Apple Inc Chief Executive Officer Tim Cook on Friday drummed up iPhone 5S sales in Beijing by shaking hands and giving out signatures to customers at an outlet of China Mobile Ltd, his new Chinese partner.
Yet whether Cook's common touch will turn into sales growth remains a question after research firms warned the nation's increasing desire for smart devices will start subsiding this year.
The CEO wrapped up his third China trip in 12 months after celebrating the first contract iPhone sold by China Mobile, the world's largest telecom carrier by subscriber numbers.
But the rather late partnership was made while the hottest period in China's smartphone market is coming to an end, analysts said.
The US research firm International Data Corp warned the growth rate of China's smartphone market is likely to hit a new low of about 20 percent this year. The rate was 64 percent in 2013.
"It's clear the market is quickly approaching saturation point," said Wang Jiping, assistant director of IDC China.
"The annual increase in demand will shrink to 7 percent by 2017," he said.
China became the No 1 smartphone market in 2011 with more than one-third of the devices sold in the country as of last September, according to IDC.
The Apple-China Mobile alliance may harvest the last crock of gold however, because the consultancy estimated nearly 130 million phones equipped with the fourth-generation telecom standard will be sold in the country.
China Mobile is the biggest supporter of 4G business in the country.
"The user base of the 4G network is set to surge over the next three years boosted by the popularity of more value-added services supported by large data traffic," said Wang. He added nearly a quarter of smart devices, including smartphones and tablets, will be using 4G to connect to the Internet by the end of the year and the amount will reach 60 percent in 2017.
In an interview with China Daily on Wednesday, Cook said his company is looking to third- and fourth-tier cities for sales growth. But Wang from IDC said although total purchases in tier four and lower cities is rising, the average price of the gadgets they purchase is going down. Apple and other vendors targeting high-end customers may need to stick to bigger cities, he indicated.
Apple was the fifth-largest smartphone vendor in China in the third quarter of 2013, said research firm Canalys. Its long-time rival Samsung Electronics Co controlled 21 percent of the market share in the same period.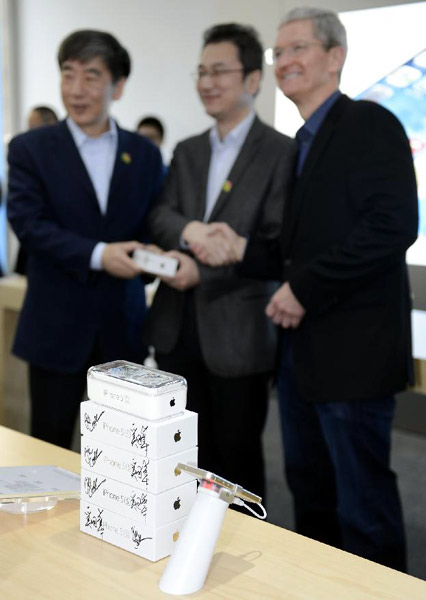 Apple's CEO Tim Cook (R) and China Mobile Chairman Xi Guohua (L) attend the issue of iPhone models for 4G in Beijing, capital of China, Jan 17, 2014. [Photo / Xinhua]