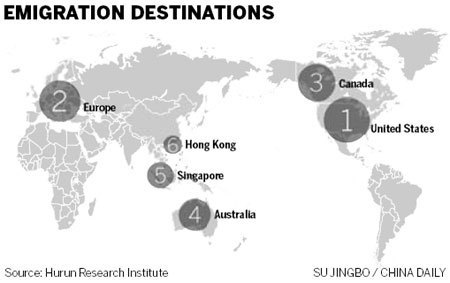 Their spending on luxury products eases amid economic slowdown
In line with the central government's recently announced policies, Chinese billionaires with personal assets of at least 10 million yuan ($1.65 million) were less generous in giving gifts last year, a Hurun study shows.
The number of gifts they gave fell by 25 percent in 2013, and the average cost of the gifts also decreased, according to the 10th Chinese Luxury Consumer Survey released Thursday by the Hurun Research Institute, which follows the lifestyles of the richest people in China.
The Chinese rich also seemed thriftier in terms of the luxury products they consumed, with overall spending on such items falling by 15 percent last year.
A slowdown in Chinese economic growth, as well as the central government's anti-corruption initiatives, prompted the change.
But it also demonstrates the maturity of the Chinese luxury market, said Rupert Hoogewerf, founder and chief researcher of the Hurun Report.
"The Chinese rich are no longer spending as lavishly as they did in previous years. They are becoming more rational and mature, and care more about their own styles. They are now starting to appreciate the culture and craftsmanship behind their purchases," he said.
"This is a very important change, signaling the transition of the Chinese billionaires in the next decade," Hoogewerf said.
Jin Shanshan, 37, runs a family property development business with her husband. Jin used to fly overseas to buy a Hermes handbag almost every month. But in 2013, she cut off such spending on luxury leather accessories, as she said their business had been affected by the economy.
Hoogewerf noted a paradox seen in the Chinese entrepreneurs who want to stay discreet on one hand but on the other are buying more Rolls-Royce automobiles and luxury watches than those in any other country.
Carrie Tsoi, senior manager of the marketing department for the China region of Rolls-Royce Motor Cars Ltd, confirmed that China became the largest consumer of Rolls-Royces in 2013.
Of the 393 high-net-worth individuals surveyed, 31 percent said they were "extremely confident" in the Chinese economy over the next two years, a level that rose from 25 percent in 2012, and the first rise seen in this statistic in five years.
In addition, the proportion of those "not confident" in the economy fell from 10 percent in 2012 to 3.3 percent in 2013.
Despite the rising confidence, super-rich emigration to other countries is growing.
The percentage of those who have left China or who plan to do so rose from 60 percent in 2012 to 64 percent in 2013.
The United States remains their destination of choice, though the proportion of individuals emigrating to Europe has increased.
Don't miss