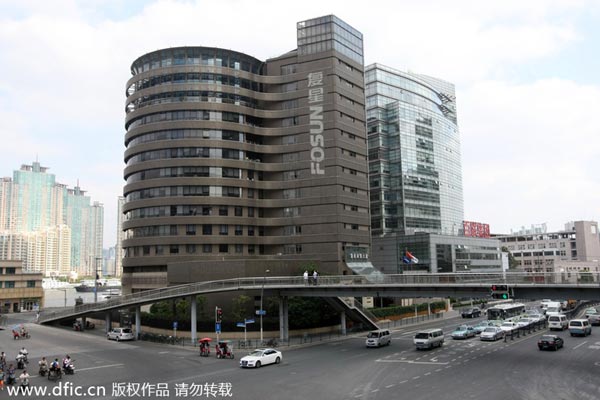 View of the headquarters building of Fosun International Ltd in Shanghai, China, Oct 14, 2013.
Spurred by the news that it has entered the second-round bidding for Forbes Media LLC, Hong Kong-listed Fosun International saw its share price hit a six-year high to close on Thursday at HK$8.55 ($1.10).
Forbes Media, which publishes Forbes magazine and forbes.com, has been seeking a potential buyer since last November. A total of 18 bids were made for the media group. Six competitors are on the shortlist now, including two Chinese companies, Fosun and G2 Whale Capital Group, the Financial Times reported.
The preliminary offers of the six bidders range from $350 million to $475 million. Deutsche Bank is authorized to run the auction process, added the report.
According to a source quoted by the Shanghai-based Oriental Morning Post, there are two factors that will lead Fosun International to outbid other rivals.
"One is the profit growth rate of Forbes Media can maintain 10 to 20 percent and the other is the media group can make some breakthroughs in the mainland market," said the source, adding that the second target is hard to achieve because they cannot issue serial publications in the mainland market without getting a CN number (equivalent of the International Standard Serial Number).
But Fosun International, a conglomerate that seeks diversification of its investments, has built a stable cooperation with Forbes Media.
In April 2009, the Shanghai-based investment group joined hands with Forbes Media to issue the Chinese-version Forbes magazine in the mainland market. Without a CN number, they can only give copies away free of charge.
But Fosun has rapidly reversed the loss-making situation of Forbes in the mainland market and even posted a profit of "millions of yuan" in the third year, which resulted from running the profitable Forbes forum.
Experts said the deal could be complicated for Fosun because traditional print media is fading in the digital media boom.
Don't miss