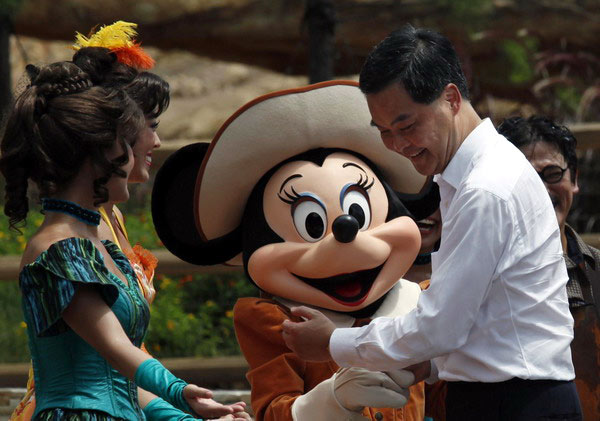 Hong Kong's Chief Executive Leung Chun-ying (R) is greeted by a Minnie Mouse mascot (C) as he attends the opening ceremony of Grizzly Gulch, the largest themed area in Hong Kong Disneyland's expansion, July 13, 2012. [Photo/Agencies]
HONG KONG -- The Hong Kong Disneyland and the Ocean Park are studying further expansion plans to cope with the increasing number of visitors, according to a report released by the Hong Kong government on Friday.
According to the Assessment Report on Hong Kong's Capacity to Receive Tourists at the end of 2013, the projected visitor arrivals would exceed 70 million in 2017, major tourists attractions have to seek further expansions to enhance their receiving capacity.
The area of Disneyland increased about 23 percent from 22.4 hectares when it first opened to the present 27.5 hectares, statistics showed.
Although Disneyland has proved its capacity sufficient to cope with the current visitors, it is considering further expansion on the Phase I Site to accommodate more visitors by using the remaining 15.2 hectares of land designated for the future development of the theme park proper and retail-dining-cum- entertainment facilities.
It is estimated that the receiving capacity of Disneyland will increase in the coming five to eight years upon the completion of a series of expansion plans. The estimated annual attendance will also increase to 11 million, with an average daily attendance of 30,137.
The Ocean Park, another theme park in Hong Kong, has recorded an average annual increase of 12.6 percent in the past five years. For 2012-13, the total attendance of the park exceeded 7.7 million, with an average daily attendance of around 21,160.
The Ocean Park projects its attendance will reach some 8.5 million by 2020 with an average daily attendance of around 23,300, while its maximum capacity will be 36,300 visitors.
To further enhance the overall appeal and receiving capacity, the Ocean Park will develop the Tai Shue Wan area into a new integrated theme zone, with the main focus on an all-weather indoor cum outdoor water park It is projected that the water park can admit a maximum of some 7,000 visitors at one time, with a maximum daily attendance of around 10,500.
The Finance Committee of the Hong Kong's Legislative Council approved in May 2013 a loan of 2.29 billion HK dollars to facilitate its early commencement of the Tai Shue Wan Development Project, the project is expected to be completed in the second half of 2017.