XINING - Northwest China's Qinghai province has seen an expansion of its wetlands in the past decade, the provincial forestry department announced on Saturday.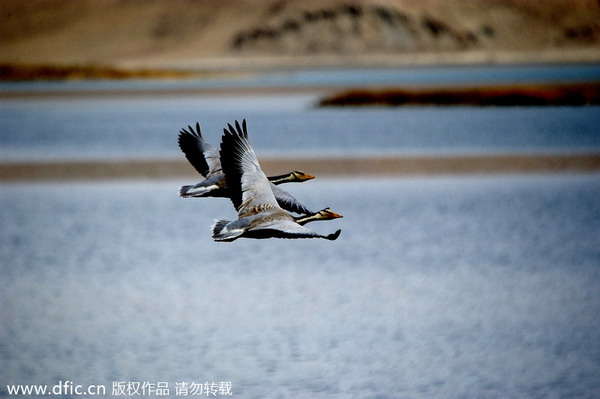 A pair of bar-headed gooses fly over the Qinghai Laker on this May 14, 2006 file photo. [icpress.cn]
By the end of 2013, Qinghai's wetland area had reached 8.14 million hectares, roughly a 50 percent increase from 2003, according to data released by the department.
Wetlands, if properly protected, can aid water purification, flood control and biological diversity.
Qinghai has 19 main wetlands including the Qinghai Lake, Gyaring Lake and Ngoring Lake, all three of international importance, and the Hol Xil Natural Reserve. Its wetlands make up 15 percent of the country's total.
From 2003 to 2013, Qinghai has seen an increase of 2.59 million hectares of wetlands, while overall, the country's wetlands shrunk by about 3.4 million hectares in the same period, said Ma Jianhai, director of the provincial wetland conservation and management center.
"We are optimistic about Qinghai, but the wetland protection work is still facing challenges," Ma said.
Economic development, mining, and melting glaciers in the region are factors threatening the wetlands environment.
The center will continue to cooperate with local governments and international non-governmental organizations such as the World Wildlife Fund to protect the wetlands in Qinghai, Ma said.