Newly elected Mayor of New York Bill de Blasio (R) is sworn in by former President Bill Clinton at City Hall in New York, January 1, 2014. [Photo/Agencies]
NEW YORK - Bill de Blasio was formally inaugurated as New York City's 109th mayor on Wednesday at a City Hall ceremony where he promised to take "dead aim" at closing the affordability gap he has decried as New York's tale of two cities.
Former US President Bill Clinton administered the oath of office on a Bible once used by Franklin Delano Roosevelt. The formal midday service was held hours after De Blasio officially took office just after midnight on January 1 in a small ceremony at his home in Brooklyn.
He succeeds Michael Bloomberg, who led the city in the aftermath of the attacks of September 11, 2001 and the recession six years later, and whose policies have been credited with making the city safer, greener and more livable.
De Blasio, who captured more than 70 percent of the vote last November, presented himself as an anti-Bloomberg candidate, decrying the economic inequality that he said has emerged as New York shed its reputation from the 1970s and 1980s as a gritty and dangerous place.
Over the last decade, as the city prospered, apartment rents in New York City rose about 44 percent and the cost of a monthly Metro Card jumped 60 percent.
In his inaugural address, de Blasio adamantly underlined that message.
"When I said we would take dead aim at the tale of two cities, I meant it. And we will do it," de Blasio said. "That mission - our march towards a fairer, more just, more progressive place, our march to keep the promise of New York alive for the next generation - it begins today."
"We won't wait. We'll do it now," de Blasio said as he ticked off his priorities: expanding the city's paid sick leave law, forcing large developers to build more affordable housing, reforming the controversial police tactic of stop-and-frisk that critics say leads to racial profiling, and offering universal access to pre-kindergarten and after-school programs.
Indeed, his critics are likely to seize quickly on de Blasio's ability to deliver on signature proposals.
His pre-kindergarten plan hinges on a tax hike for the city's highest earners to pay for it that must be approved by state lawmakers and Governor Andrew Cuomo. Cooperation from Albany is far from assured.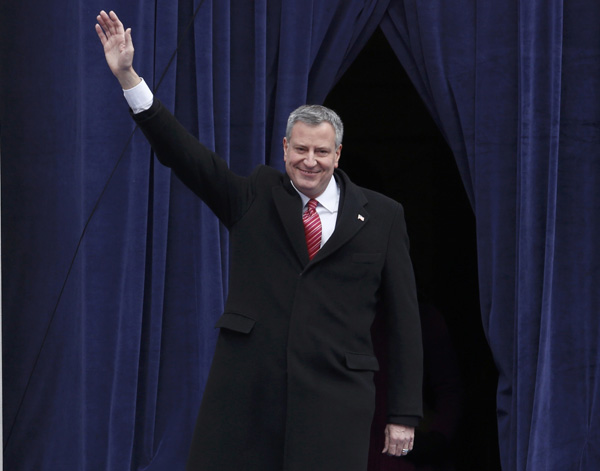 New York City Mayor Bill de Blasio arrives for his public inauguration at City Hall in New York January 1, 2014. [Photo/Agencies]