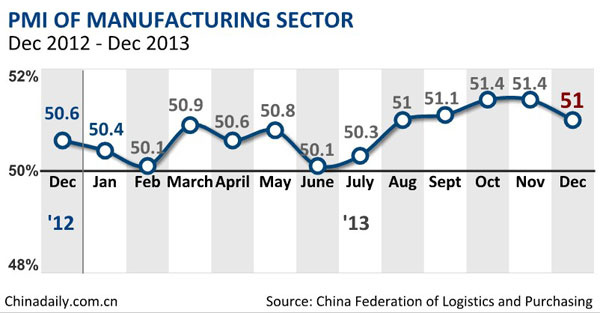 The Purchasing Managers' Index for December retreated to 51 from 51.4 in November, its lowest level since August, indicating weaker economic growth.
The National Bureau of Statistics (NBS) and the China Federation of Logistics and Purchasing (CFLP) jointly released the December index, a key manufacturing indicator, on Wednesday.
New export orders showed a contraction for the first time in five months, according to a PMI sub-index of 49.8 in December, compared with 50.6 in November.
Another sub-index to show entrepreneur production expectations for the coming months dropped to 49.4 from 54.9, suggesting concern about the macroeconomic environment.
In addition, the sub-index for production output fell to 53.9 in December, down from 54.5 in November, the first drop in the second half. Iron and steel, nonferrous metals and non-metallic mineral products, showed a sharper production slowdown.
A reading above 50 indicates expansion, below 50 indicates contraction. Chen Zhongtao, an analyst from CFLP, said that during the process of accelerating structural rebalance and controlling overcapacity, the growth rate of manufacturing industries may continue to slow in the near future.
"A key task for 2014 macroeconomic policies is to expand domestic demand in order to stabilize overall growth, and to be careful about a possible sharp contraction of exports as the international environment is complicated," said Chen.
Supportive measures are also needed to help the growth of small-scale manufacturing businesses, which can strengthen entrepreneur confidence, he added.
Zhao Qinghe, an economist from the NBS, said that weaker momentum indicated by December's PMI is because of the seasonal factors. "The PMI figure still shows expansion in December, and it has remained above 50 for 15 consecutive months, which means the general industrial situation is stable," said Zhao.
Related readings:
Manufacturing PMI stays at 18-month high
October PMI 'signals growth momentum'
PMI heads for 7-month high