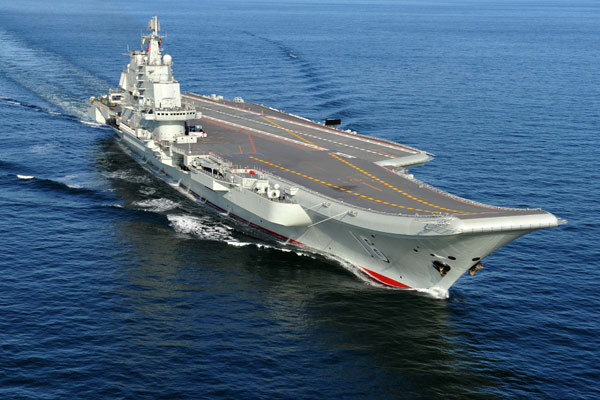 The aircraft carrier Liaoning has conducted 10 sea trials since August 2011. Photos by Li Tang / for China Daily
QINGDAO - China's first aircraft carrier, the Liaoning, returned to its homeport in north China Wednesday after completing a series of scientific tests and training programs in the South China Sea.
According to a source with the Navy of China's People's Liberation Army, the aircraft carrier underwent a comprehensive test of its combat system and conducted a formation practice during its 37-day voyage.
Such tests have "attained the anticipated objectives", the source says.
Liaoning's combat and power system and its seagoing capability have been further tested during the trip. "All tests and training programs went well as scheduled", according to the source.
The Chinese Navy dispatched aircraft, naval vessels and submarines to participate in the tests.
The Liaoning is China's only aircraft carrier in operation. It was refitted based on an unfinished carrier of the former Soviet Union. The refitted carrier was delivered to the navy on September 25, 2012.