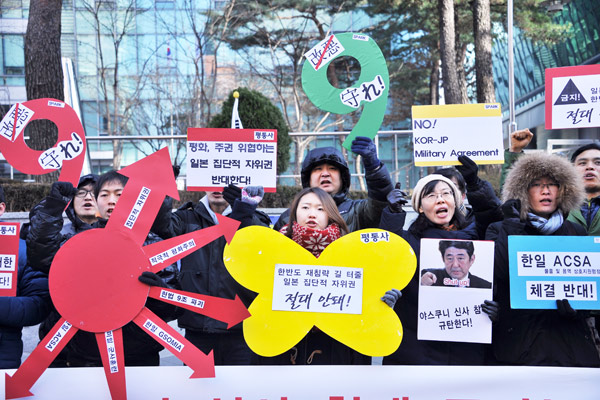 Protesters shout slogans against Japanese Prime Minister Shinzo Abe outside the Japanese embassy in Seoul on Friday. Abe paid his respects on Thursday at the controversial Yasukuni Shrine in a move that drew sharp rebukes from China and South Korea, who warned that the visit celebrates Japan's militaristic past. WOOHAE CHO / AGENCE FRANCE-PRESSE
World powers and Asian neighbors united in their condemnation of Abe
Outrage from Asian neighbors and world powers continued to grow on Friday over Japanese Prime Minister Shinzo Abe's visit to a controversial shrine.
Observers described the visit to Tokyo's Yasukuni Shrine, made on Thursday, as a dangerous attempt to redefine Japan's militaristic wartime history.
The shrine honors 14 of Japan's World War II Class A war criminals among the country's war dead.
Abe's decision prompted the United States to reconsider its level of support for its Asian ally, while Russia and the European Union also voiced concerns.
Chinese Foreign Ministry spokeswoman Hua Chunying reiterated Beijing's indignation, attacking Japan's justification for the visit as "feeble and futile" and urging it to take responsibility in maintaining regional stability.
"What we have seen in the past year from Abe's words and conduct is only hypocrisy, arrogance and self-contradiction, as he tried to deny World War II aggression, a military build-up and a challenge to the post-war world order," Hua said.
"It is obvious that Abe's retrograde actions have induced condemnation from Chinese people, for which Japan should bear all the consequences," she said.
"It's Tokyo's choice — whether to reflect on history thoroughly and develop future-oriented ties with neighbors, or cling to its wrong and dangerous course, being isolated by the world."
The foreign affairs committee of the National People's Congress also issued a statement on Friday condemning Abe's visit to the shrine.
China and South Korea, both victims of Japan's past atrocities, voiced their anger over the shrine visit on Thursday. Beijing summoned Tokyo's ambassador to deliver a "strong reprimand", while Seoul expressed its anger and urged Tokyo to stop "beautifying its invasion".
Analysts, describing Abe as "politically and morally tone deaf" and his actions as "irresponsible", said his visit was foolish and did nothing but exacerbate an already sour relationship with other Asian nations that suffered under Japan during World War II.
Jeff Kingston, director of Asian studies at Japan's Temple University, said Japan has turned its history into an issue when it should be seeking the cooperation of China and South Korea.
"Trampling on neighbors' sensitivities about their shared past also limits room for managing territorial disputes involving both countries, or making headway on a range of other pressing issues," CNN quoted Kingston as saying.
Lyu Yaodong, director of the Japanese diplomacy department at the Institute of Japan Studies under the Chinese Academy of Social Sciences, said the real intention of Abe's shrine visit was to publicize the Japanese leader's view of the country's history.
"The visit has made it more difficult for Tokyo to mend its sabotaged ties with Beijing and Seoul. It also goes against Japan's ambition to be a world power," Lyu said.
In a rare critical tone, Washington on Thursday also criticized Tokyo for exacerbating tensions.
Liu Jiangyong, an expert in Japanese studies at Tsinghua University, said: "The swift response from Washington shows that Abe has trespassed on the bottom line of the US' conception of history and war. On historic issues, Washington and Tokyo contradict each other."
Jon Taylor, a political science professor at the University of St Thomas in the US, said the visit hurts the US-Japan relationship and gives the White House an unneeded headache.
"There is a concern that Abe may be using this as a way to deflect problems in the economy by pushing Japanese nationalism, which is never a good thing," Taylor said.
Weston Konishi, an expert on Asia, said the US wants to show strong support for Japan as Tokyo struggles with territorial issues with its neighbors.
"But at the same time, the US is very concerned about prime minister Abe's views toward history, and how that might exacerbate tensions," Konishi was quoted by AFP as saying. "It certainly complicates what the US is trying to do in Asia."
On Thursday, Russian Foreign Ministry spokesman Alexander Lukashevich expressed regret over Abe's visit.
He said that some forces in Japan have a different evaluation of the outcome of World War II compared with the understanding shared by the world.
Catherine Ashton, European Union foreign policy chief, said in a statement that Abe's decision is not conducive to easing tensions in the region or improving relations with neighbors, especially China and South Korea.
Gao Hong, deputy director of the Institute of Japanese Studies at the Chinese Academy of Social Sciences, said the international community is seriously concerned about Abe's visit because it challenges the human conscience and the post-war world order.
Conciliatory tone
Acknowledging that the visit has become a political and diplomatic issue, Abe struck a conciliatory tone soon afterwards.
"It is not my intention at all to hurt the feelings of the Chinese and Korean people," he said. "I have renewed my determination before the souls of the war dead to firmly uphold the pledge never to wage a war again."
Abe did not visit the Yasukuni Shrine during his previous tenure as prime minister in 2006. In October, several Japanese cabinet officials and more than 150 legislators visited the shrine. Abe refrained from visiting in person then, but sent an offering.
Contact the writer at puzhendong@chinadaily.com.cn
Mo Jingxi contributed to this story.