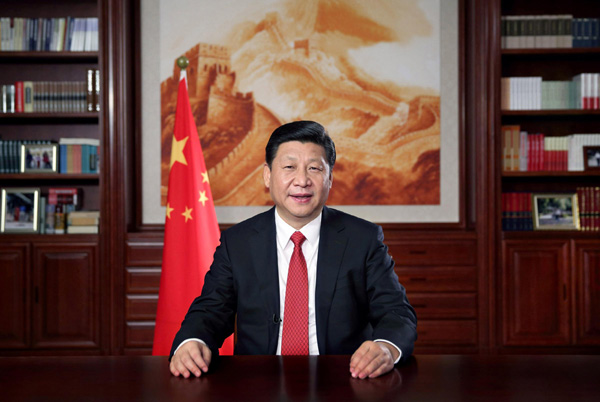 Chinese President Xi Jinping delivers his New Year message via state broadcasters in Beijing, capital of China, Dec 31, 2013.[Photo/Xinhua]
BEIJING -- President Xi Jinping expressed his confidence in China's reform and extended good wishes to all Chinese in his New Year address Tuesday.
"In 2013, we made an overall arrangement on comprehensively deepening reform, drawing a grand blueprint for the country's future development," Xi said in the address via state broadcasters.
"In 2014, we will make new strides along the path of reform."
The fundamental purpose of the reform is to make the country rich and strong, the society fair and just and people's lives better, he said.
Addressing domestic and overseas audiences, Xi called on the people to fight hard together for this great cause.
"We have numerous glories in the name of the great cause of reform and opening-up. I firmly believe that new glories are awaiting the Chinese people," he said.
"We welcome a 2014 that is full of hope," Xi said, extending his New Year greetings to compatriots in Hong Kong and Macao, compatriots from Taiwan, overseas Chinese and friends from various countries and regions across the world.
Xi wished the elderly health, children happiness and every family felicity and safety.
According to Xi, numerous workers, farmers, intellectuals and cadres are still serving at their posts; many compatriots around the world are still diligently working for their motherland; many People's Liberation Army and Armed Police soldiers and officers as well as police are performing their glorious duties.
"Some of them are far from the motherland and their relatives, and some can't reunite with their families," said Xi. "On behalf of the homeland and its people, I bid the sincerest greetings to them and wished them peace and safety."
Xi said that 2013 was a very unusual year for the country and the people as the Chinese people jointly overcame various difficulties and challenges and won prominent achievements.
"These precious achievements contained people's sweat and blood, and I thank you from the bottom of my heart," Xi said.
Xi said that more than 7 billion people live together on the planet, and they should help each other and work together to weather hardships and seek common development.
Xi said that the Chinese people are pursuing the Chinese dream to realize the nation's great rejuvenation, and expressed his hope that people from various countries could realize their dreams too.
"I sincerely hope that people from all countries, while striving for their own dreams, can understand and help each other, and make efforts to build our Earth into a wonderful homest," Xi said.
"Life is always full of hope, and success always belongs to people who strive hard and never give up," he said.
Noting various risks and challenges ahead, Xi admitted that "a huge amount of work" need to be done in order to ensure a better life for the people.
"Let's be modest and discreet, and work hard to jointly compose a new chapter for the development of our great motherland," Xi said.